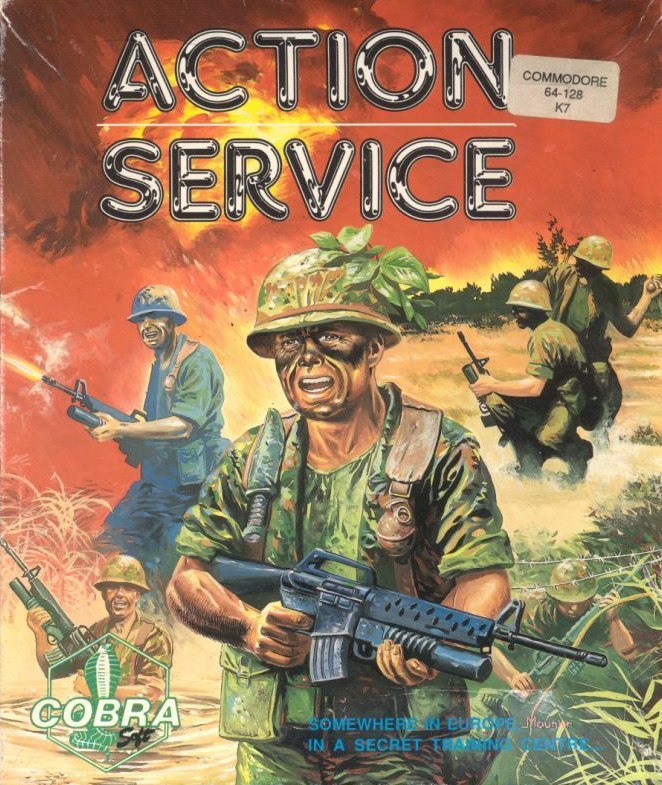 ACTION SERVICE is a brilliantly executed Commando School Simulation, with all the features that add up to one of the most challenging and exciting action programs ever produced:
- unique simulated video recording and playback system, allowing action replay of your performances (to help you to improve it).

- lifelike action graphics with superb sound and speech effects.

- easy to use, difficult to master!

- Up to 12 players - competing on 5 different modes: physical, risk, close-combat, combination and the unique Commando Construction Course!

Including the superb "Cobra Command Construction set:
- construct, edit and save commando courses, making them as easy or difficult as you wish.
Challenge your friends on the course of your own design!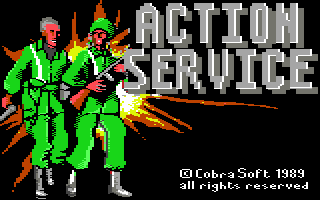 ACTION SERVICE.
ONE DAY THIS MAY BE MORE THAN JUST A GAME...

Somewhere in Europe, at a confidential location, lies one of the world's toughest school : a top secret training centre...

Behind impenetrable barbed-wire and patrolied by wardens armed to the teeth, stretches the course, a gruelling track of obstacles, traps and dangers, stretching every commando's ability to the limit.

PURPOSE: preparing soldiers to join the "Cobra Command" - a crack team of commandos who have chosen war as their profession.

QUALIFICATIONS: strength, courage, nerves of steel...