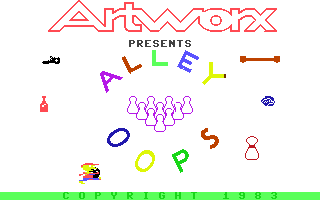 DON'T LAUGH.
FIVE MINUTES OF ALLEY-OOPS
AND YOU WON'T BE ABLE
TO TAKE YOUR EYES OFF IT.
Oh sure - it might look silly now. But wait'll it's hurting toward you, threatening to destroy your perfect game. You'll take it seriously then. And bowling shoes won't be your only worry. You'll also have to watch for diabolical beer bottles, evil pin sweeps and vicious gum spots.
Sound strange?
Sure. But battling such weird objects is exactly what maes Alley-Oops so original. And so incredibly fun to play.
Alley-Oops is real arcade stuff. In fact, it's a challenge just to get to the next level of play. And there are 8 levels, the last one being the nearly impossible Challenge Round.
There are all kinds of ways to Alley-Oops - try to mount up points, score a perfect game or reach that highest level. Whichever way you choose, you'll have endless fun playing Alley-Oops.
Just remember - don't take the bowling shoes lightly. After years of being kicked around bowling alleys, they're out to get even.