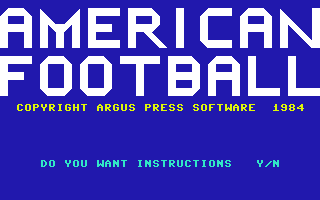 Fourth Down, four yards to go. Your team is sweating on the touchdown. What play do you choose?

Pass? Too risky. Field goal? It'll probably succeed... but it's so cloase to the line... A run then. But which one? and what defence will your opponent choose?

The play begins. Go Go Go! Will you make it?
For one or two players. A full action, strategic simulation. Fast animated graphics and statistics charts. Experience the excitement of American Football!