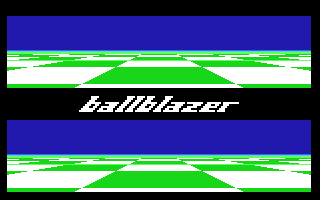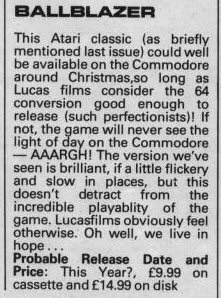 Zzap64 October 1985
ZZAP64! Overall Rating: 98%
The best sports simulation to hit the 64 yet.
A thousand years in the future, the most popular game in the galaxy is the futuristic soccer-like game of Ballblazer. Strapped into your Rotofoil, you're ready to challenge for the galactic title...
The action takes place on a bare green and white chessboard- like field, with one goal at each end of the field. The aim is simply to blast the floating Plasmorb (or ball) into the opposing player's goal. Your Rotofoil is like a giant foot that can dribble and kick the ball, thanks to the magnetic field that surrounds it. Rather unsportingly, you can also use this field to "punch" your opponent away.