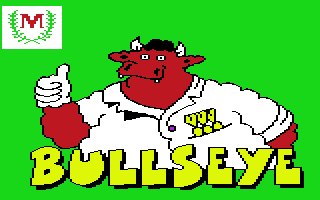 Pick up your "arrows" and set your sights on 180! There are 11 question categories - so step up to the "ockey" and test your skills. Bullseye is a Central Independent Television Production made in association with PHI Television Logo.

Bullseye is a variation of the successful TV quiz programme, adapted for popular home computers. It is a game for 2 players, played over 4 rounds. Skill at answering questions from any of 11 different categories is combined with simulated dart throwing to gain high scores.

The cassette includes the game itself and two data files containing hundreds of questions to give you hours of competitive enjoyment.