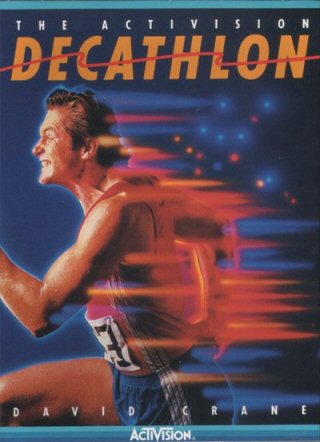 Zzap64! Overall Rating: 76%
The cheapest and best joystick-waggling sports simulation available.

"If it's just a game, why am I so out of breath?"

Because of ten very physical events. And two on-screen contestants who will bend your biceps and trigger your adrenaline. When the competition begins, you'll see.

And feel.

Hints

You might try holding the joystick differently to see which way is the easiest for you to get speed and power.

In the long jump, shot put, javelin, and discus events, try to get a good first score, then really push yourself on the next two attempts. Since you already have a score, there is no chance of scoring zero points.

In the 1500-meter race, you do not need to run at top speed for the first 1300 meters. Pace yourself and only move the joystick or tap the keyboard as fast as necessary to keep yourself at the top speed allowed for that part of the race.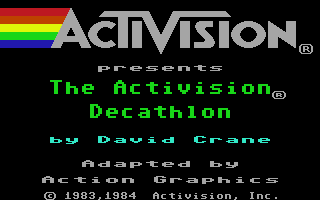 Game History:

David Crane, Designer and Programmer:
"The idea for Decathlon was to have a video game that people could actually work up a sweat playing - it was meant to be different than what people normally associated with 'video game'.

The 'wiggle' joystick interface game was fairly unique at the time, too. We made it so that you really had to work to get your athlete to move." Anyone who's tried finishing "All events" will certainly testify that you can work up a sweat quite easily playing Decathlon!

The Commodore 64 version was essentially the same game as the Atari 2600 version, with improved graphics and sound.

In addition to Decathlon, David Crane also worked on Little Computer People Project and Pitfall. He is still working in the computer game industry for a company he co-founded called Absolute Entertainment.

{gold} 10,000 points!
{silver} 9,000 points!
{bronze} 8,600 points!

When Decathlon was originally released, consumers had the ability to join the "Club of Champions". A score of 8,600 to 8,999 earned a Bronze medal, 9,000 to 10,000 earned a Silver Medal, and 10,000 or more won you the prestigious Gold Medal. (Colors may vary.)