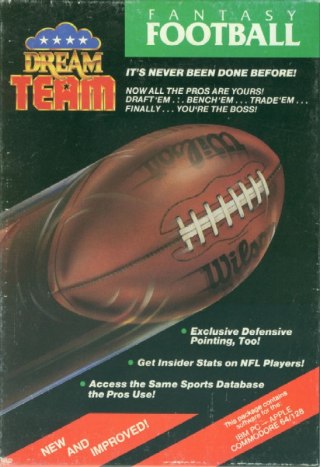 One things for sure, you've never had a season like this before. Making trades. Signing free agents. Benching the Bums! All on your way to the playoffs... and ultimately to the Dream Team Super Bowl Championship!

- Start your Professional League right now.
- NFL Historical Player Database.
- Easy Menu Driven Software.
- Complete League and Team kits.
- Create the Dream Team of your choice using any NFL Players and score based upon their weekly performance!

Kick off the best season you've ever had!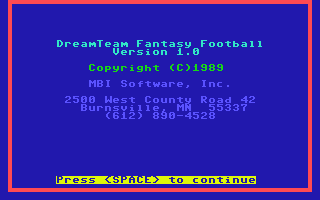 It's never been done before!
Now all the pros are yours!
Draft'em... Bench'em... Trade'em... Finally... You're the boss!

- Exclusive defensive pointing, too!
- Get insider stats on NFL players!
- Access the same sports database the pros use!

Form your dream team football league today!

No more second-guessing the pros. With Dream Team Football you're the owner. It's your NFL team. Your coaches. Your players. Your calls, The pros work for you. It's the ultimate in Fantasy!

Make no mistake. This is not a youngsters interactive video game. Dream Team is much different. It's a system for organizing your own football teams made up of real and current NFL players.

Week in and week out... you challenge your football savvy by matching wits with other team owners in your league. It all starts when a group of friends get together and draft actual NFL players. You prepare a starting roster for every game based on players stats from the largest, most comprehensive sports data base in the world, as well as your own special player insights. So whatever happens on the fields to your NFL players that week, your team gets the credit. If they do nothing, of course, you get nothing.