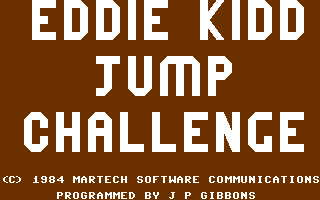 If you've ever wondered how it feels to be Eddie Kidd...defying danger and gravity, soaring on a motor-bike over a long line of cars...here's your chance to find out!

This fabolous new game - Jump Challenge - has been produced for you by Martech, with a lot of help from Eddie himself.

At the age of 12, Eddie Kidd was jumping over oil barrels on a bicycle. At 19, he shattered the world record with is astounding leap of 190 feet - clearing 14 double-decker buses.

Can you match his skill, courage, control and ice-cool nerve? Jump Challenge will show how you compare with the King of Motor-Cycle Stunts!