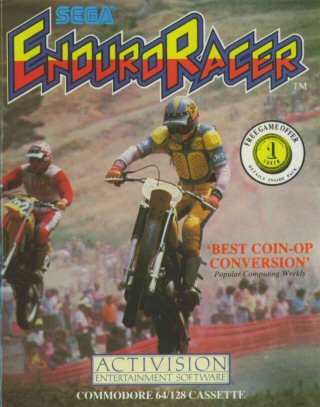 Zzap64! Overall Rating: 16%
The most disappointing and unrepresentive arcade conversion available.

Activision's conversion of the coin-op was disappointing to say the least, but the original was never in the same league as the likes of Hang On and Super Hang-On. The basic idea is to ride around on your scramble bike completing the courses, jumping obstacles and avoiding hazards. Buggy Boy on two wheels really. Give it a miss.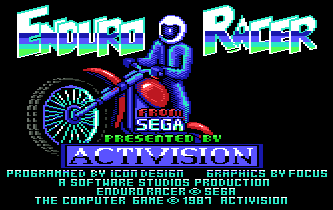 ENDURO RACER has been described as:
"THE MOST FAITHFUL AND COMPELLING COIN OP CONVERISON SEEN" and "THE BEST COIN OP CONVERISON AVAILABLE".

From tarmac tracks to desert trails ENDURO RACER is a stunning motorbike race pitting you against time as you compete with deadly opponents and the cruel and challenging terrain...

At the start of every stage a timer is set to 60 seconds, the limit within which the course must be completed. The other riders and the various obstacles on the road can slow you down or even throw you off your bike. There are five stages.