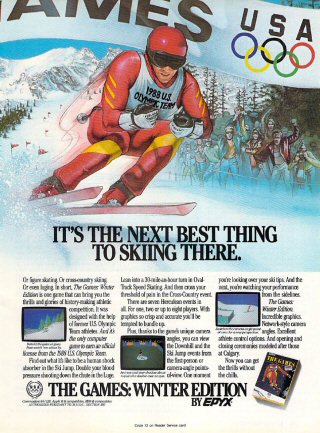 Zzap64! Overall Rating: 76%
Well worth a look - but there was plenty of disagreement in the reviewing team, so don't expect too much...

FASTER...FURTHER...BETTER

You are competing against the world's greatest in the greatest and toughest series of winter sports yet devised.

Seven events to test your your skill and nerve to the utmost; each one with its own individual demands.

Practice, patience and more practice are required to stand any chance of a medal.

You can do it, you will do it! And what's more you'll have a great time trying!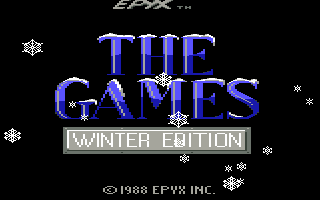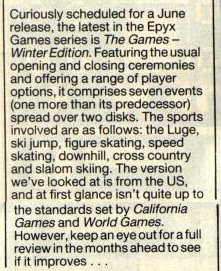 Zzap64 Preview May 1988

People all around the world have spent months, years and, in the case of the athletes themselves, lifetimes preparting for this momentous event. And now you can be a part of the excitement yourself. Not just by stitting in front of your television, but by actually competing in computerized simulations of these historic events.

Select from four different collision courses - where every turn is a test of reflexes, timing and nerves - in THE LUGES events.

Choose your own music and your own choreography when you enter the FIGURE SKATING event. Muster all your strength and endurance to put yourself ahead of the game in SPEED SKATING.

Go from 0 to 60 in the lightning-fast DOWNHILL SKIING races - complete with your own strategically placed video cameras. Make your way through one of the four progressively difficult courses in the SLALOM. Sail through the air in the daring SKI JUMP. Or cross the threshold of pain in the CROSS COUNTRY event.

No matter which events you choose to compete in, one thing is certain: It's going to take great practice, patience and plain ord hard work for the Gold.

But, you can do it. And what's more, you're going to have a great time trying!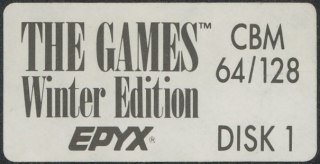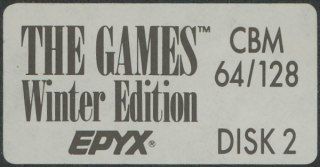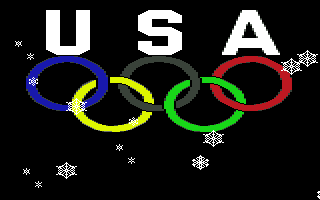 US Version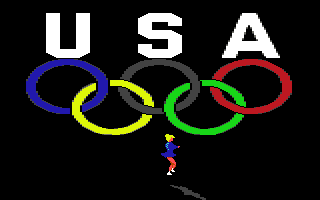 US Version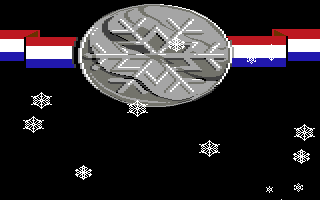 European Version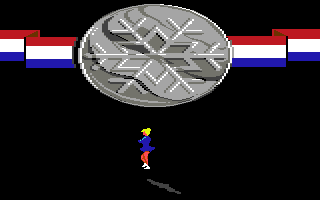 European Version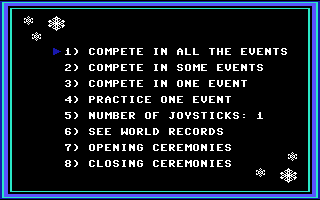 Disk Version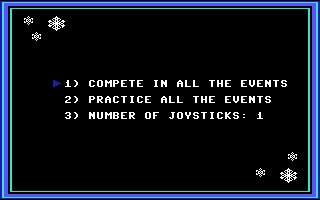 Tape Version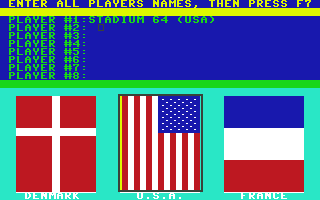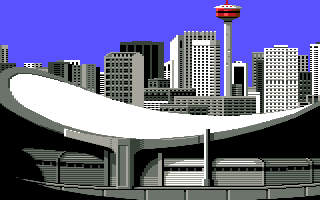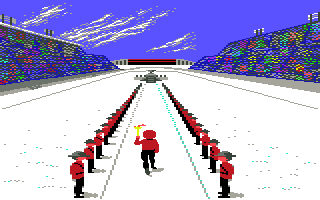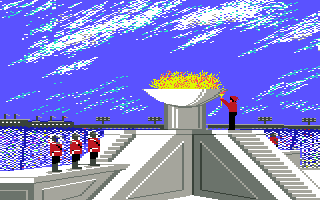 Luge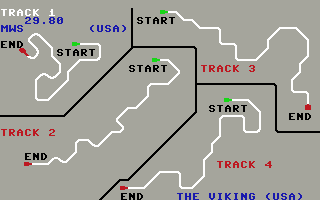 Luge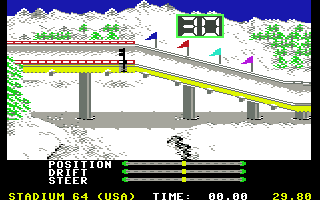 Luge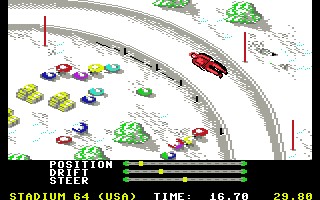 Daring; a touch of winter madness! Lying prone, feet first on a sled technologically designed to assault time.
You'll use every muscle in your body to make the most of each straight and curve on a choice of courses.
Cross Country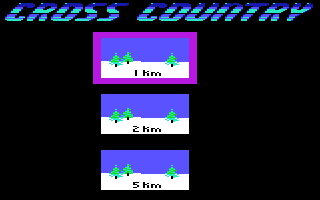 One of the stiffest tests of pure physical prowess ever devised. You will battle with time, terrain and winter itself. Here nothing is on your side save the occasional surge of gravity on a downhill section. Muster all the spirit and strength you can for this is the ultimate test of endurance!
Cross Country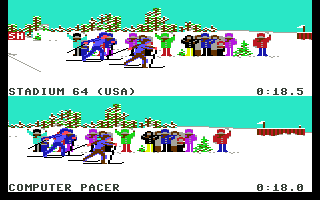 Figure Skating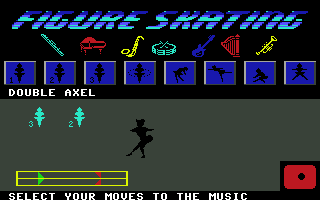 Figure Skating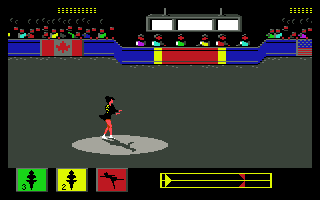 Precision and poise are essential...
Figure Skating
...in this most artistic of sports.
Ski Jump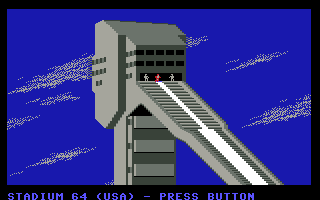 Daredevil bravery nerves of steel and total control are compulsory in this thrilling and...
Ski Jump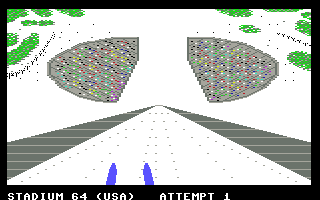 ...most dangerous sport where both distance and style count towards your score.
Ski Jump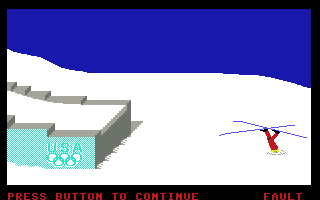 Slalom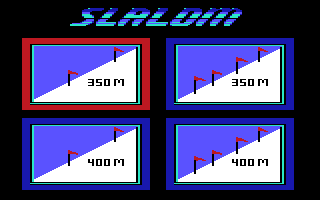 Slalom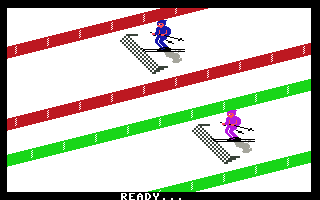 Speed, control and split second timing makes the Slalom the most difficult of all skiing events. Choose from different courses varying in their difficulty.
Speed Skating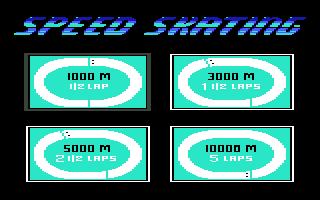 The fastest self propelled sport on earth.

A test of strength and rhythm where speeds of 30 mph are reached in the quest for gold.
Speed Skating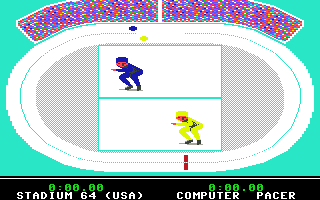 Downhill Skiing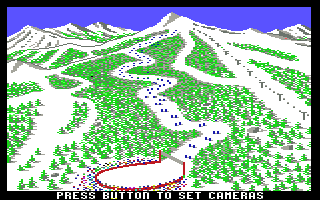 Downhill Skiing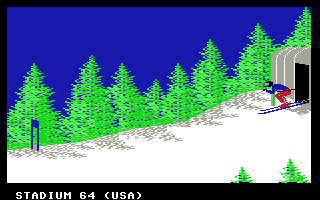 A free fall in white. Using gravity as your power source and your poles for balance.
Downhill Skiing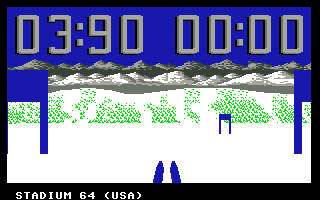 You'll attain speeds of 70 mph as you hurtle towards gold and a place in the record books!