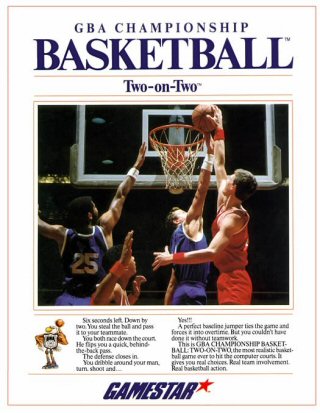 GBA Championship Basketball; Two-On-Two, you'll have the most realistic basketball game ever to hit computer courts. It gives your real team choices, with real team involvement and basketball action!

GBA BASKETBALL gives you all these ways to compete:
* One player versus the computer.
* Two players versus the computer.
* Two-player, two-team competition.
* Practice sessions.
* 23-team league competition.

GBA BASKETBALL. It is the one that lets you really show your stuff.

Game after game. Season after season.

Other features included:
* Chalkboard screens let you establish your playing skills and pick your teammate. Teammates are patterned after real professionals.

* Call your offensive play while your opponent sets his defense.

* Choose from hoos, jump shots, passes, slam dunks, tip-ins and much more.

* The sports page keeps track of game results and league standings.
Six seconds left. Down by two. You steal the ball and pass it to your teammate. You both race down the court. He flips you a quick, behind-the-back pass. The defense closes in. You dribble around your man, turn, shoot and... Yes!!!

A perfect baseline jumper ties the game and forces in into overime. But you could not have done it without teamwork.

This is GBA CHAMPIONSHIP BASKETBALL: TWO-ON-TWO, the most realistic basketball game ever to hit the computer courts. It gives you real choices. Real team involvment. Real basketball action.

Here is the computer basketball game that begins where the others leave off. Because this game relies on teamwork.

Draft your teammate from a list of then players whose styles are patterned after real professional superstars.

Practice with games like "Around the World" and "Horse", or go one-on-one with a friend. Get your team in shape for league play. And go all the way to the GBA Championship game.

You play GBA BASKETBALL on a full court. And when it comes to shooting, you have a full range of choices. Like hooks, tip-ins, jump shots - even dunks.

After each game, you can read the sports page of the Gamestar Gazette to check box scores and division standings.

One look at the screen tells you that this simulation has the most realistic graphics ever created for computer basketball. Not to mention realistic sound effects and on-court action that feels like the real thing.