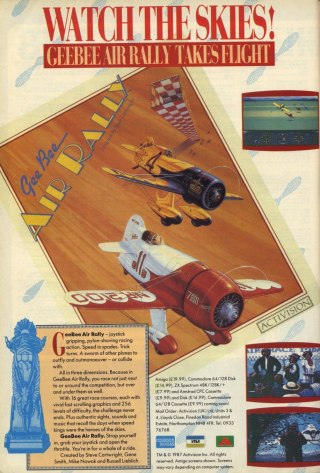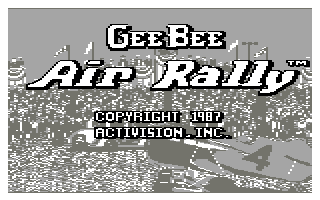 WATCH THE SKIES!
GEEBEE AIR RALLY TAKES FLIGHT

Gee Bee Air Rally - joystick gripping, pylon-shaving racing action. Speed in spades. Trick turns. A swarm of other planes to outfly and outmanoeuver - or collide with.

All in three dimensions. Because in Gee Bee Air Rally, you race not just next to or around the competition, but over and under them as well.

With 16 great race courses, each with vivid fast scrolling graphics and 256 levels of difficulty, the challenge never ends. Plus authentic sights, sounds and music that recall the days when speed kings were the heroes of the skies.

Gee Bee Air Rally. Strap yourself in, grab your joystick and open the throttle. You're in for a whale or a ride.