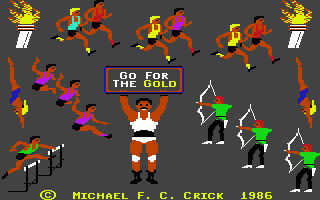 Summer is coming and it's time to don your skimpy shorts and go out and get fit by doing lots of strenuous sporty things. If that's not really your style and you like to spend the sunny season slumped on your posterior toggling your joystick then you can still compete in various sport events courtesy of HES Games from Americana.

There are six different events which have to be loaded separately - three of them test your joystick toggling muscles and the other three require precision timing and reflex skills.

Before an event is loaded you must enter the number of players (up to six) and enter their names and affiliation (ie Mad Dog Regan USA, Mag the Hag UK etc), and select the strip colour (red shorts, red top for Derek Hatton etc).

After that any of the events may be loaded and it's possible to view the real world records for that avent by pushing the joystick in certain directions. Once you've seen what you're up against you can start the event proper.

Another nice feature about HES Games is the replay/classic replay options. After you complete an event you can watch it again by pressing F1 on the keyboard! Or, if you so desire, watch a classic replay - an emulation of when the world record took place.

This is particularly useful with weightlifting to study technique. If you manage to get a world record or a good score then this can be saved out (on the disk version ONLY).