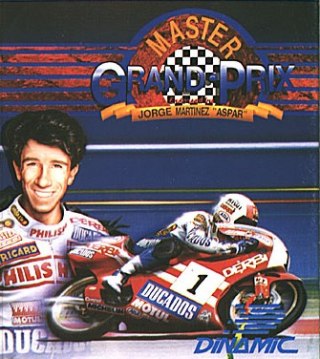 Imagine a racetrack 70 times the screen of your monitor.

Imagine 7 racetracks like this.

Imagine yourself on your motorcycle competing against expert pilots on each of these racetracks.

The entire 80 C.C. World Championship of motorcycling.

Qualification heats, Warm-Ups, Classification.

Leave the rest behind and take the world championship home with you!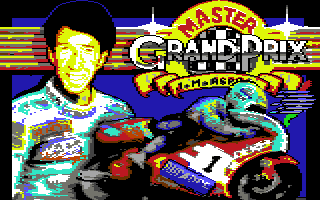 Welcome to the World Championship of 80 c.c. Motorcycling. Direct on your screen - taken from true life.

From the tough practice sessions of the dazzling speed of the race, passing through demanding qualification heats that determine your position on the starting grid (if and when you qualify).

All this on 7 racetracks across the world. 12 men in a relentless struggle for victory.

GRAND PRIX MASTER, a program developed under the guidance and supervision of the four times World Champion Jorge Martinez "Aspar".

An authentic simulation featuring:
- Detailed reproduction of the actual racetrack
- Partial and general classifications standings.
- Scoreboard with speed indicator, chronometre, position and laps left to finish.
- Information from boxes (time, last lap, etc...)

GRAND PRIX MASTER is so real that when you cross the finish line in first place you will feel the emotion of winning. Then its time to take off your helmet and uncork a huge battle of champagne in celebration.