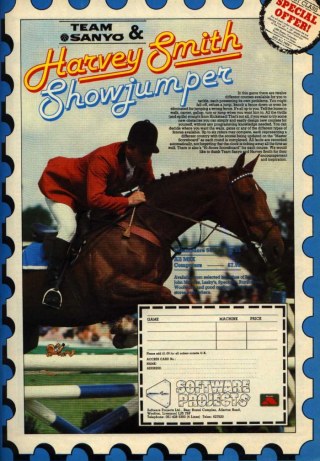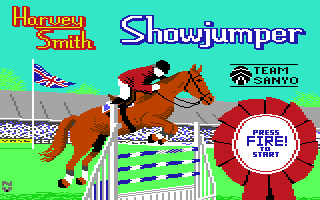 In this game there are twelve different courses available for you to tackle, each presenting its own problems. You might fall off, refuse a jump, knock a fence down or even be eliminated for jumping a wrong fence. It's all up to you.

Tell the horse to walk, canter, gallop, turn or jump when you want him to. All the thrills (and spills) straight from Hickstead! That's not all, if you want to try some new obstacles you can simply and easily design new courses for yourself, without any programming knowledge needed.

You can decide where you want the walls, gates or any of the different types of fences available. Up to six riders may compete, each representing a different country with the scores being updated on the "Master Scoreboard" as each round is completed.

All faults are recorded automatically, not forgetting that the clock is ticking away all the time as well. There is also a "Hi-Score Scoreboard" for each course. We would like to thank Team Sanyo and Harvey Smith for their encouragement and inspiration.