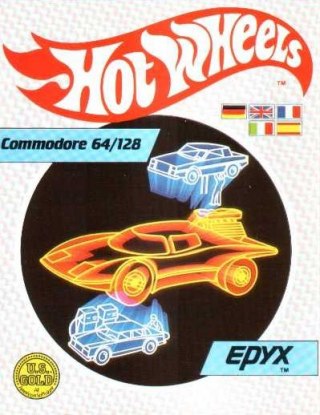 • Choose your vehicle from Existing Selection or Design Your Own.

• Drive your HOT WHEELS Vehicle through the City and Complete Real-Life Activities.

• Use your Vehicle for Eight Different and Challenging Activities.

• Joystick Controlled.
• One Player.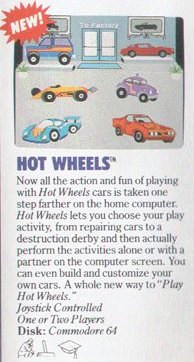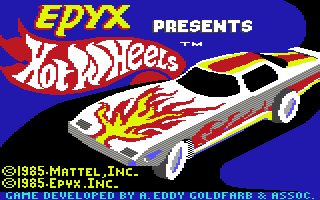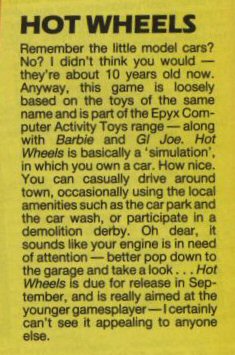 Zzap Sept.1986
What could be more fun than playing with HOT WHEELS vehicles in a true-to-life city? How about fixing them at the garage or crashing 'em up in a demolition derby?
Now, though the magic of the computer, you can even play with HOT WHEELS vehicles that you design and build yourself. With the HOT WHEELS Computer Activity Toy, the action comes to life right on your computer screen, in animated cartoons that you control.
Everything you need is included, from a selection of your favourite HOT WHEELS to a set of colourful play scenes and a HOT WHEELS assembly line. You can customise your vehicle at the assembly line, choosing the parts yourself!
You can also choose ready-made vehicle; a fire enginge, a classic coupe or a hot sports car. Step on the gas and listen to your engine roar, then race through the city in search of adventure. Pull into a play scene and control the action as it unfolds right before your eyes!