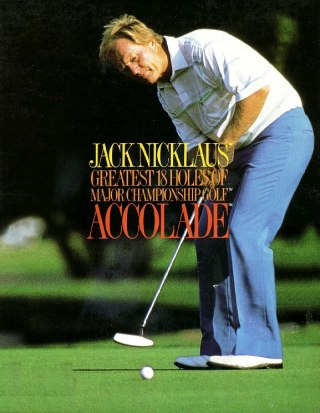 Jack Nicklaus is unquestionably the greatest golfer of his time and I've been fortunate enough to follow his play on the greatest golf courses in the world.

Jack Nicklaus' Greatest 18 Holes Of Major Championship Golf is the Golden Bear's personal selection of the most challenging holes in all of golf.

Holes that have decided the four major championships. Accolade has come up with a simulation that only recreates each hole with stunning accuracy - but it allows the player to golf against a computerized Jack Nicklaus.

Quite an accomplishment. Jack never settles for second best. This is the computer golf game that others will be judged by for years to come.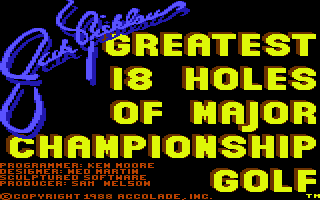 The 18 holes from the U.S. a British Isles that Jack Nicklaus has selected as his favourite 18 holes of Major Championship Golf. The best holes of the best courses of the Big Four: Pebble Beach, St.Andrews, Riviera, Royal Lytham, Baltusrol, Merion, Muirfield, Oakmont and Augusta National. These are the winner-makers - the legendary tests of golf every great golfer must pass.

Jack Nicklaus Greatest 18 Holes of Major Championship golf by Accolade. This is a realistic and visually stunning computer golf game. Play 18 holes from courses where the four major championships have been contested: Augusta, Baltusrol, Muirfield, Merion, Oakmont, Pebble Beach, Riviera, Royal Lytham and St. Andrews. Play 2 additional courses designed by Jack Nicklaus: Castle Pines,Colorado and Desert Mountain, Arizona.

Play against a computerized Jack Nicklaus who possesses skills patterned directly after his own game. Play with one to four people or a variety of computerized men and women golfers. Choose skins scoring or stroke play. Choose beginner or expert levels on the pro, men's or ladies' tees.

Contend with the effects of wind direction and intensity. Contend with rolling hills that give you uphill or downhill lies. Contend with random pin placement. No hole ever plays the same way twice. Game comes in the original box with Players Guide, Course Sheet and Diskette.