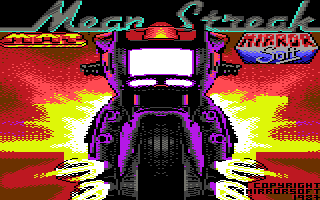 Dateline: the far future. High-tech prevails and Matter Transport is the norm in suburban Britain. The campered masses barely leave their apartments as the Computer attends to their every need.

You however are a Rebel. Rebels see MT as yet another product of a bored decadent society and are sledged to preserve the memory of the Old Ways by taking up the challenge of the Battletrack!

The Battletrack, a vast expanse of abandoned motorway circling the capital city; the scene of the desperate fight for freedom between the Rebels and the anarchic threat of the Outcasts.

Mount your turbo-charged super-bike, the Mean Streak, and take to the road - there can only be one ruler of the highways, you, the Renegade on the Motorbike. Fast moving all-out arcade action for one or two players - meet the perils of the Battletrack head on, and unleash your Mean Streak!!!!