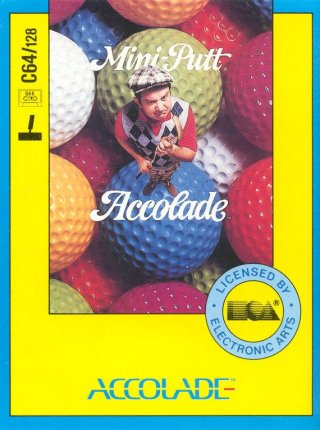 Zzap64! Overall Rating: 78%
An offbeat golfing game that's different enough to warrant purchase.

"Ah, the ol' windmill trick, eh?" Well, you can bet your knickers that this windmill hole has a dew well-placed "surprises" that can iron the dimples out of your gold ball. Your gonna' need all the help you can get. So, Accolade gives you a sporting chance with a three-window overview of the hole, including a close up of "Mini-Putt Pete" - the hacker you embody as you romp around the course.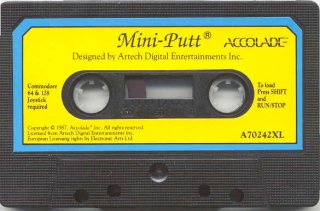 Mini-Putt's infamous "Killer Castle" is a hole that has been known to make many a pee-wee putter panic. You've got to putt through the castle walls, over a drawbridge, (could there be something lurking in the moist?) and on to a green that's about as smooth as the lunar surface. Whew! At least Accolade shows some compassion by providing gradation arrows to indicate the slope of the green.
A word of advice. Remove all breakables from arms' reach while playing Mini-Putt. It can make you golf goofy... especially when you 8 putt a par 1.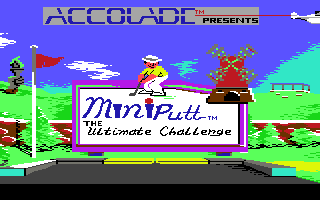 Mini-Putt: The wackiest miniature golf game in the world!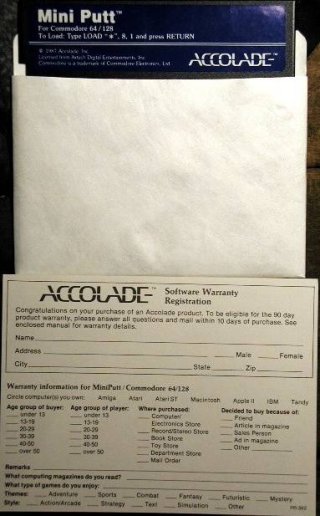 If you're looking for a lighthearted and relaxing miniature golf game for your computer, then you're holding the wrong box, duffer.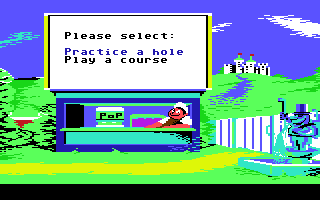 The wizards at Accolade have spared no expense in an effort to drive you crazy. Mini-Putt is the ultimate miniature gold challenge; a magical, animated "Golf-O-Rama" filled with pee-wee putting pandamonium that not only tests your skils ...it tests your sanity.
In Mini-Putt you can expect the unexpected. Each looney link was designed to have you ricocheting off the walls. Obstacles and hazards can spring to life. A serene green can gobble up your golf ball. Can your nerves take it or will your putter flutter? Remember, if your game is on, Mini-Putt can be "Fantasyland". If your game is off, Mini-Putt can be "No Man's Land". Accolade's Mini-Putt. Straitjacket not included.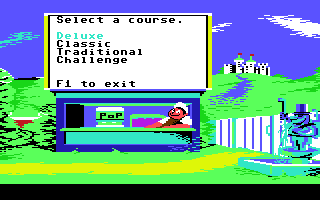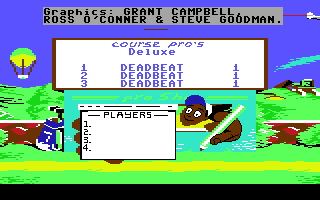 Deluxe - Hole 1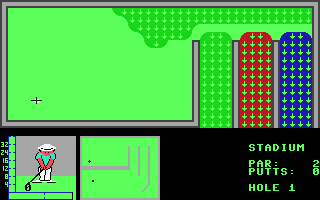 Deluxe - Hole 1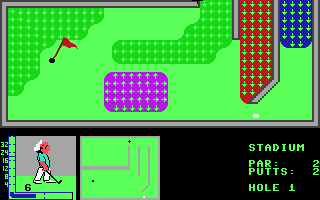 Deluxe - Hole 2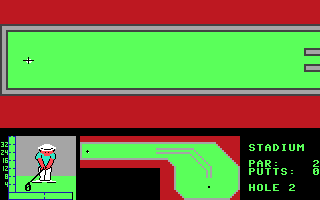 Deluxe - Hole 2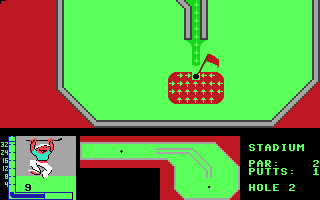 Deluxe - Hole 3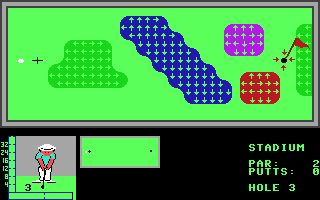 Deluxe - Hole 4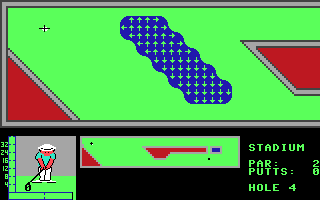 Deluxe - Hole 4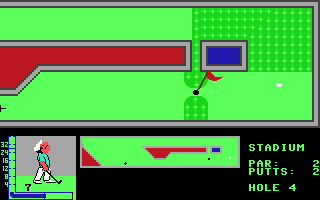 Deluxe - Hole 5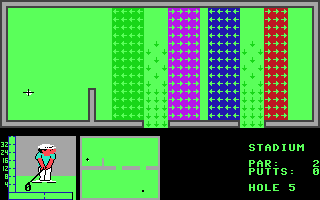 Deluxe - Hole 5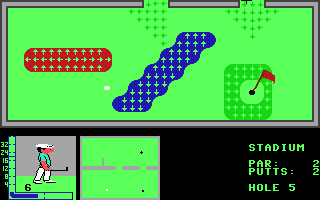 Deluxe - Hole 6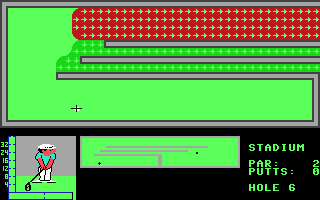 Deluxe - Hole 6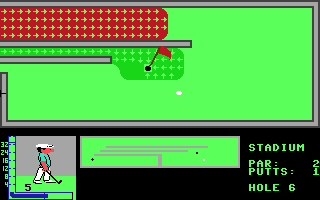 Deluxe - Hole 7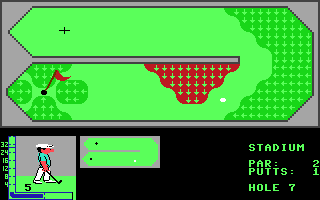 Deluxe - Hole 8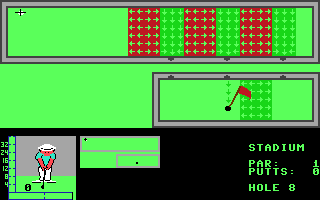 Deluxe - Hole 9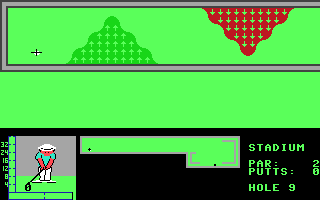 Deluxe - Hole 9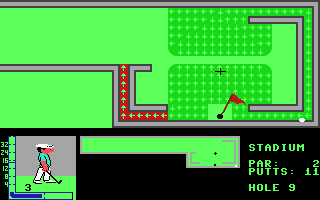 Deluxe - Final Standings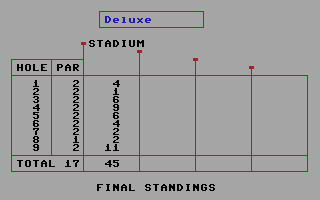 Classic - Hole 1
Classic - Hole 1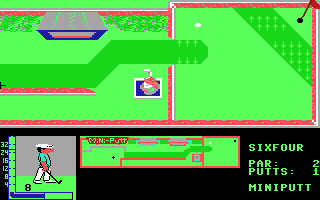 Classic - Elephant (Hole 2)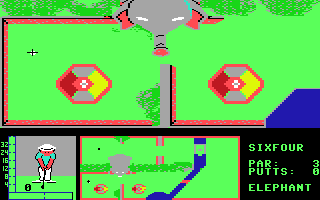 Classic - Elephant (Hole 2)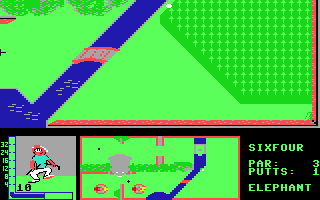 Classic - Elephant (Hole 2)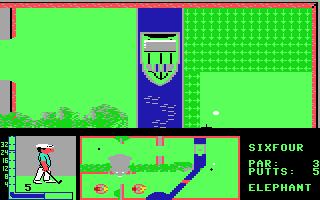 Classic - Elephant (Hole 2)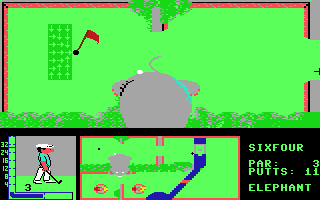 Classic - Windmill (Hole 3)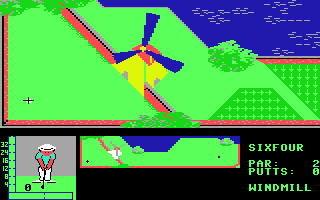 Classic - Windmill (Hole 3)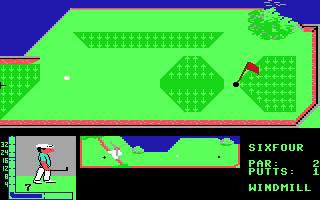 Classic - Airplane (Hole 4)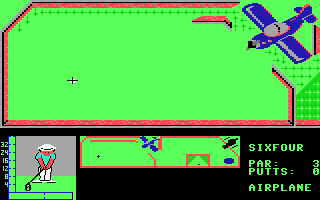 Classic - Airplane (Hole 4)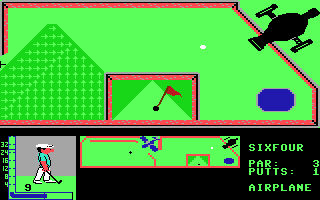 Classic - Castle (Hole 5)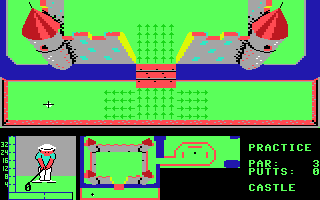 Classic - Castle (Hole 5)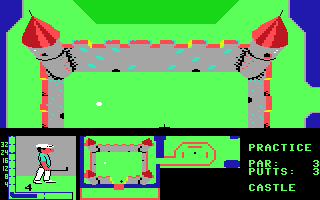 Classic - Castle (Hole 5)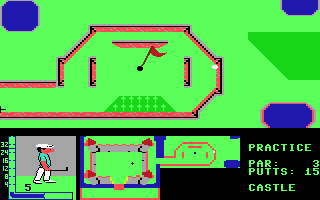 Classic - Shuttle (Hole 6)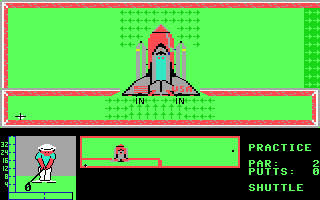 Classic - Shuttle (Hole 6)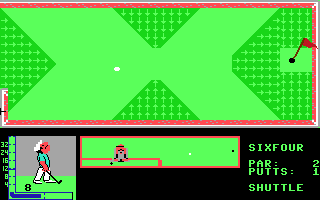 Classic - Cobra (Hole 7)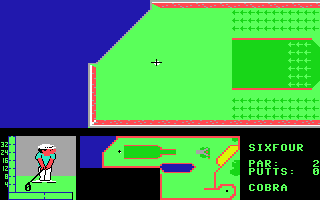 Classic - Cobra (Hole 7)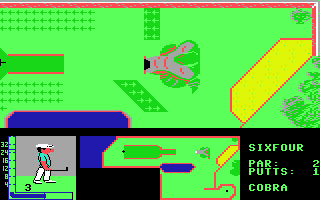 Classic - Cobra (Hole 7)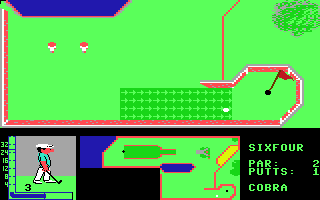 Classic - Tajmahal (Hole 8)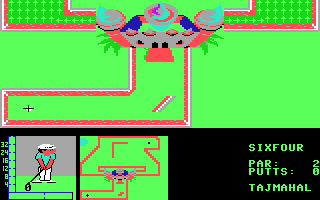 Classic - Tajmahal (Hole 8)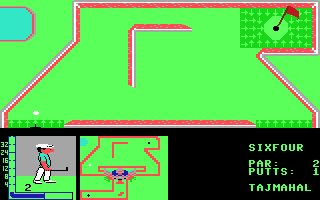 Classic - Log (Hole 9)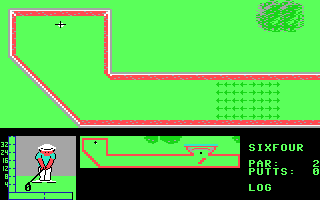 Classic - Log (Hole 9)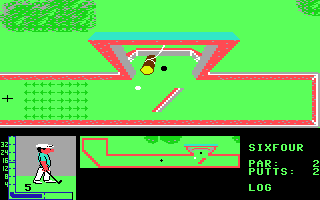 Traditional - Hole 1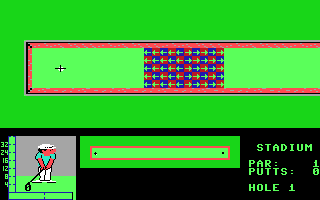 Traditional - Hole 1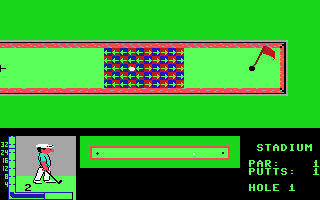 Traditional - Hole 2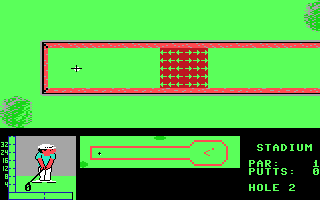 Traditional - Hole 2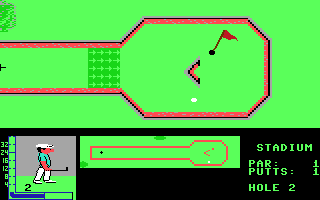 Traditional - Hole 3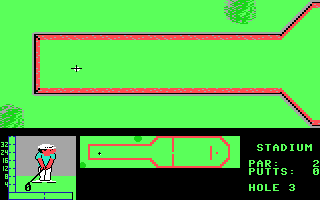 Traditional - Hole 3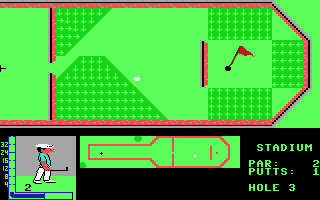 Traditional - Hole 4
Traditional - Hole 4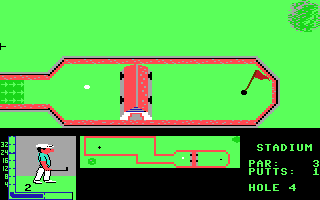 Traditional - Hole 5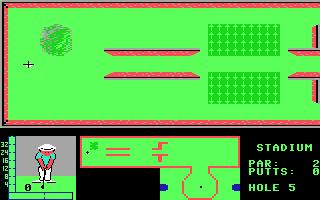 Traditional - Hole 5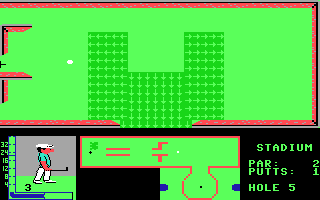 Traditional - Hole 5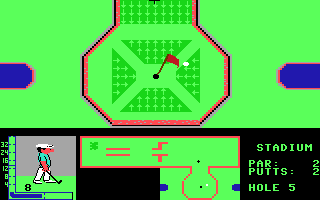 Traditional - Hole 6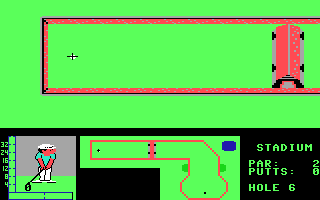 Traditional - Hole 6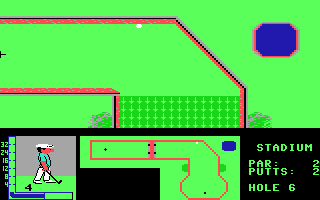 Traditional - Hole 6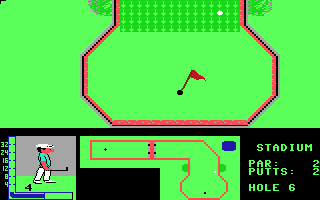 Traditional - Hole 7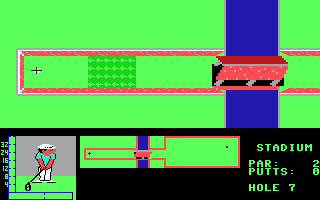 Traditional - Hole 7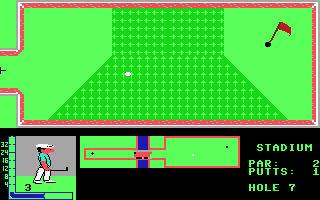 Traditional - Hole 8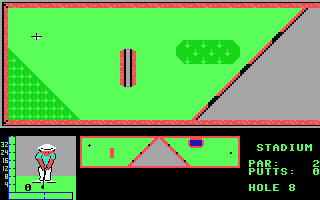 Traditional - Hole 8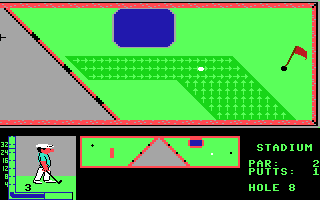 Traditional - Hole 9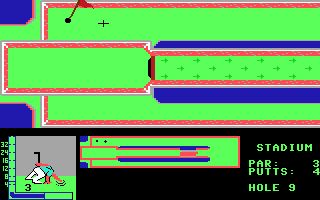 Traditional - Hole 9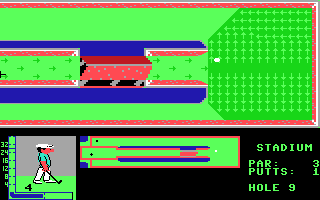 Challenge - Hole 1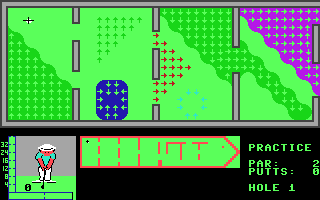 Challenge - Hole 1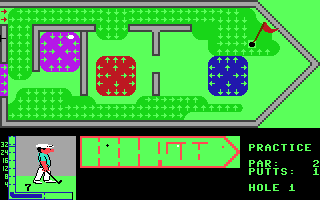 Challenge - Hole 2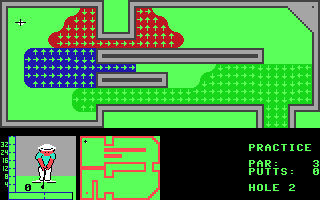 Challenge - Hole 2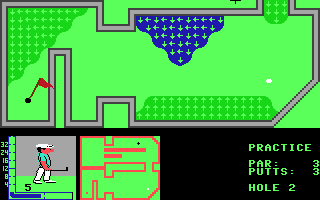 Challenge - Hole 3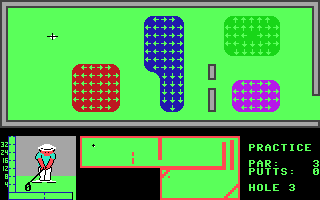 Challenge - Hole 3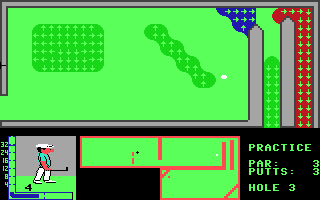 Challenge - Hole 3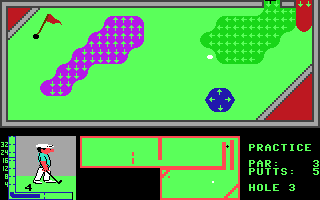 Challenge - Hole 4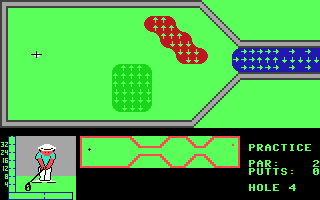 Challenge - Hole 4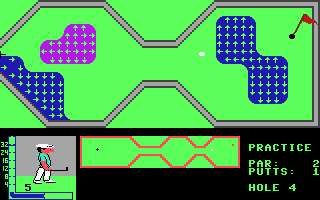 Challenge - Hole 5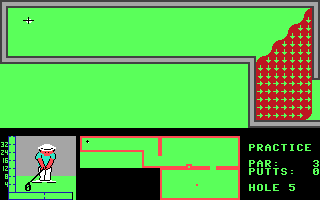 Challenge - Hole 5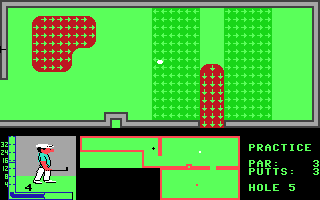 Challenge - Hole 5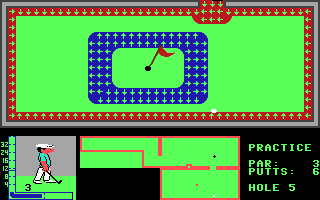 Challenge - Hole 6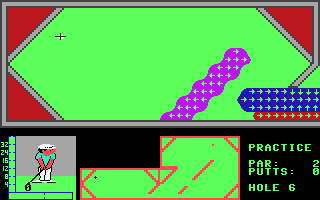 Challenge - Hole 6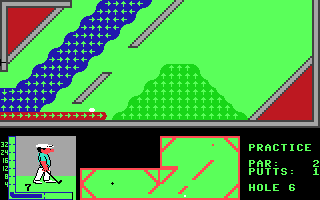 Challenge - Hole 6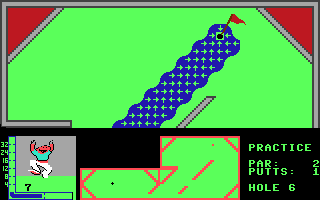 Challenge - Hole 7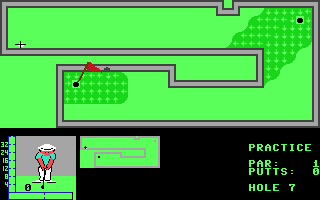 Challenge - Hole 8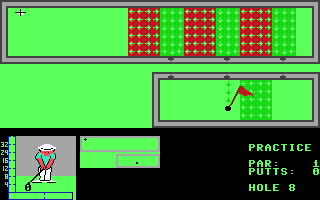 Challenge - Hole 9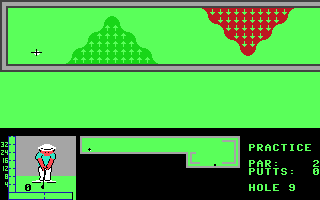 Challenge - Hole 9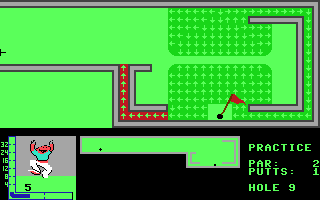 Mini Putt - The Ultimate Challenge