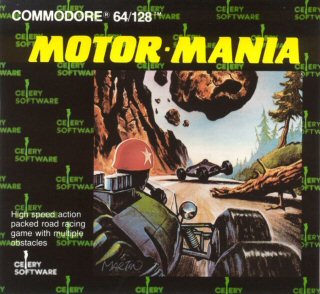 FEATURES

* Joystick Controlled for Better Handling
* Realistic Road Hazards
* Full Instrument Panel
* Variety of Road Conditions
* Gas Stations
* Ten Skill Levels
* Remembers Best Score
* Two Standard Maps and One Random Map Section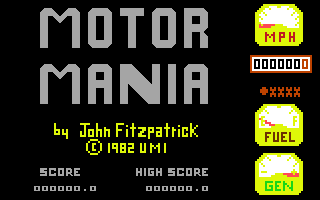 Fasten your seatbelts and rivet your eyes to the road. It's time for MOTOR MANIA! Speed up to 80 mph in your high performance machine as you weave your way through danger on the treacherous roads ahead. But stay alert! Potholes, rough patches, broken glass, falling logs and boulders, and even cross traffic will appear at any time to challenge your skill and quick reflexes. As with any good driver, you must also keep an eye on your car's vital statistics.

Is your engine overheating?
Are you low on gas?
Is your battery getting weak?

Your car's instrument panel will let you know, but it's up to you to decide when to take care of the problem. Just remember that gas stations are few and far between! The longer you travel trouble-free, the higher your score will be. So, start your engine and be prepared for the wildest ride of your life!