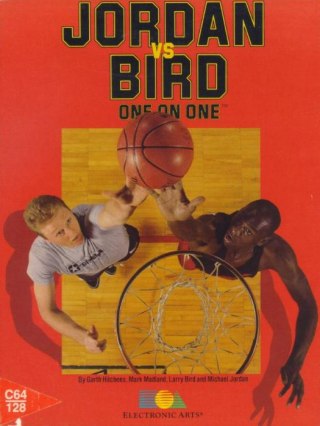 The computer-generated characters you're about to see were originally created with the help of Larry Bird and Michael Jordan. If you're a fan of Larry and Michael, you probably know how, when, and where they like to shoot. So does the computer!

Each player's approximate sweet spots, weak spots and shooting percentages (guarded and unguarded) have been programmed in. Your score will depend on whether you're Michael or Larry, you timing, how well you're being guarded, and where you're shooting from.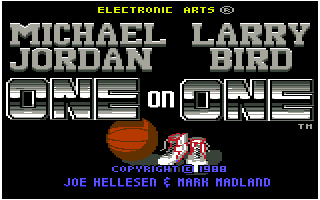 THE PLAYER OF THE DECADE
VS THE "AIR" APPARENT!
The Shooter: Larry Bird. His turnaround and fadeaway jump shots leave a colorful blur of rainbows in your eyes. Nearly a decade into his award-laden pro-basketball career, Bird continues to prove himself an all-star performer who can swish the ball from almost anywhere on the court. Going shirt-to-shirt with the Shooter means battling one of basketball's best!
The Slammer: Michael Jordan. His aerial show seems to defy the laws of physics. But he's also a stealing, rebounding and point-making machine. Jordan's fast hands, devastating drives and all-around aggressive play make him one of basketball's most respected and entertaining players. It'll take a real shooting star to hammer the Slammer!