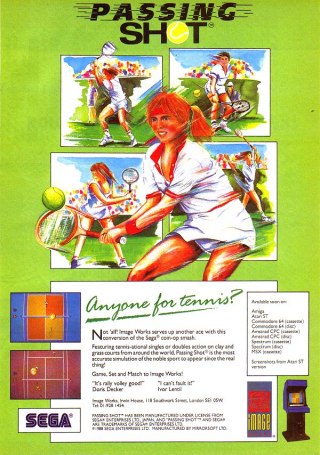 Featuring: singles or doubles action, on grass or clay courts.

Realistic tennis action, includes lobs, slices & topspin.

2 perspectives to-view, giving you the best view & control over the game action.

Choose between one or two player. If you choose the two player-option you will play together with your friend against two computer-players. Four different difficults is available.
Anyone For Tennis?


Not 'alf! Image Works serves up another ace with this conversion of the Sega coin-op smash.

Featuring tennis-ational singles or doubles action on clay and grass courts from around the world, Passing Shot is the most accurate simulation of the noble sport to appear since the real thing!

Game, Set and Match to Image Works!

"It's a rally volley good!" Doris Decker

"I can't fault it!" Ivor Lentil

Passing Shot lets you play the deciding set in a three set match. If you play doubles then the two players are on the same side, against computer controlled doubles pairs. The tramlines are included in-bounds when playing doubles.

The view of the court in Passing Shot is represented from spectator level for service, then switches to top-down perspective for rallies - this allows the bset view and control over the action.

There are four types of stroke in Passing Shot: Flat, Slice, Topspin and Lob.