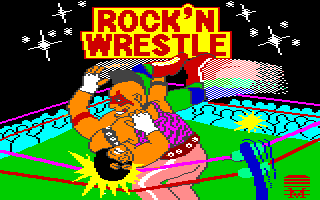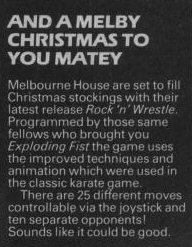 Zzap64 1985
Rock'n Wrestle - the first truly 3 dimensional combat sports simulation game.
Dynamic graphics, state-of-the-art animation, 1 and 2 player mode, brilliant gameplay, 10 different opponents and complete rock sound track.
More joystick moves than you imagined possible- over 25-including the atomic drop, aeroplane spin, piledriver, body slam, back breaker, arm twist, elbow drop and turnbuckle fly.
Rock'n Wrestle - the challenge begins here.
Zzap64! Overall Rating: 53%
A hard idea to put on a computer, possibly a worthy try, but the potential hasn't quite been realised.