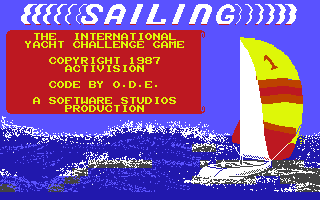 Sailing is a game of strategy and simulation designed to capture the thrill of competing in top-level yachting competitions. You will need all your wits about you as you design your boat to take part in this international challenge and that's before you even start racing!

As you take to the water ploughing through 20 foot waves, you can see your opponent rounding the bouy ahead. Have you got the skill to catch up? Is your design ill-suited to the conditions? It's all in your hands. Prepare yourself for the sail of the century!

Zzap64! Overall Rating: 80%
An atmospheric and suerprisingly playable boat racing game.