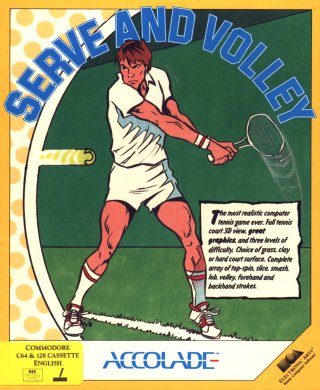 What do I except from a computer tennis game? Realism. I want to sense the power of a strong forehand, the ease of a smooth backhand. Accolade's Serve & Volley gives me that realism - and more. Serve & Volley truly captures the essence of the game - the action, the strategy, the pressure.

You can select and place your shots via the animated "Strobe-O-Stroke" graphics. There's match or tournament play, three levels of difficulty, even three different court surfaces. Why should I leave the office to cover a tournament? Now I can play one on my computer with Serve & Volley.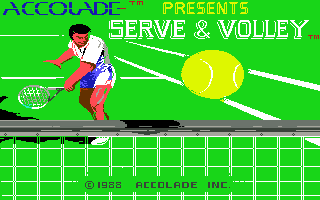 The most realistic computer tennis game ever. Full tennis court 3D view. great graphics, and three levels of difficulty. Choice of grass, clay or hard court surface. Complete array of top-spin, slice, smash, lob, volley, forehand and backhand strokes.

All the action and strategy of real tennis. Choose either Match of Tournament play, the characteristics of the players (speed, power, accuracy, forehand vs backhand), the difficulty level, even the type of court (clay, grass or hardcourt).

With every shot, you make split-second decisions: you analyse your court position, plan the timing of your next shot and select your shot type (top spin, smash, lob volley...).

The full tennis court 3D view with action windows displaying unique Strobe-O-Stroke graphics truly captures the essence of the game. One or two player capability. Option to save players statistics. Great tennis takes more then fast reflexes. It takes fast thinking too.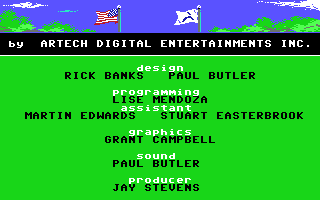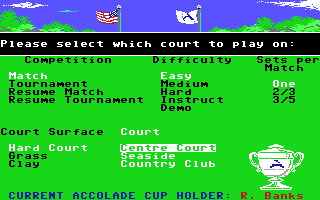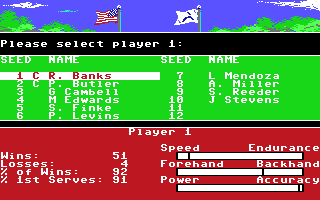 Choose from 10 players or create a new player.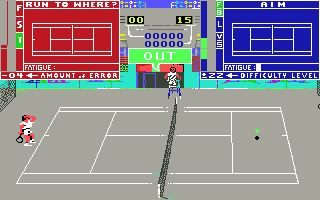 Hard Court - Centre Court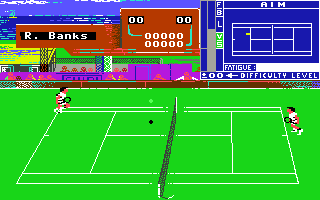 Grass - Seaside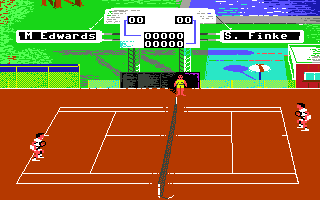 Clay - Country Club