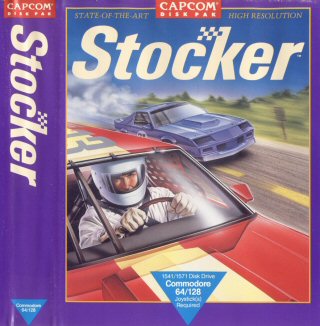 It's the stock car race of the century! A screaming, flat-out, coast-tocoast, non-stop 5000-mile drag- and you're bumper-to-bumper with the world's top stockers!

The roar of the fuel-injected V-8 is music to your ears as your 2-speed street machine hurtles down the highways, byways, and backroads of the South, from Florida all the way to sunny California. You're racing the clock, so push that pedal to the metal. But stay alert for sirens - the smokies are hot on your tail, and with three tickets, you're out of the race!

Look out for slow-moving cars and trucks; a crash can really slow you down. But lay some scratch in low gear, and you'll be off again in a shot! Listen to those tires screech as you fly through hairpin turns, burning rubber all the way. But keep an eye on that fuel gauge, and tank up every chance you get - it's along walk between gas stations!

It'll be tough to keep your cool when the pace gets hot and heavy. But remember: no guts, no glory!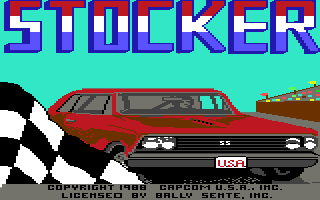 A Special Message From Captain Commando
Thank you for selecting STOCKER from the Captain Commando "Challenge Series" by Capcom. Exciting and challenging, The STOCKER, created by CAPCOM... premier world-wide arcade game designer... features powerful, colorful state-of-the-art high resolution graphics.

This high quality DISK PAK has been manufactured to meet CAPCOM's rigid quality specifications for excellence, assuring long-lasting satisfation game after game.