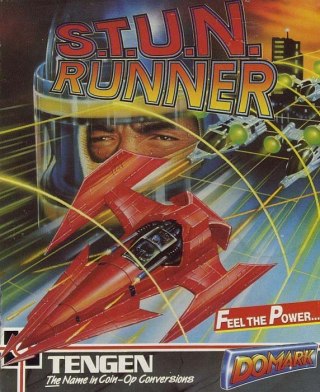 It's the year 2492 and you are about to compete in the ultimate sport. At speeds over 900 miles per hour, you must run your Sub-Terranean Underground Network (S.T.U.N.) craft through a series of challenging courses in an attempt to retain your title as S.T.U.N. Runner. Meanwhile, ruthless challengers and indestructible droids will do anything to keep you from finishing. (Everyone wants to destroy a champion, right?)

You must destroy the challengers before they destroy you. To retain your championship you will need quick reflexes, steady nerves, incredible driving skills, and a fast trigger finger. Good luck!

Zzap64! Overall Rating: 48%
A graphically good conversion lacking all important fun and excitement. M.E.D.I.O.C.R.E.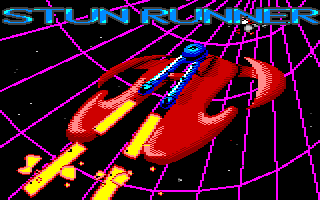 The object of S.T.U.N. Runner is to complete each course before time runs out. Enemy craft will try to slow you down along the way. You can destroy these enemies individually with blasts from you laser or in groups with Shochwaves collected along the way. The game begins when the S.T.U.N. Runner walks to his S.T.U.N. craft and takes his seat in the cockpit. The robot pit crew snaps the chassis together and puts all shields in place.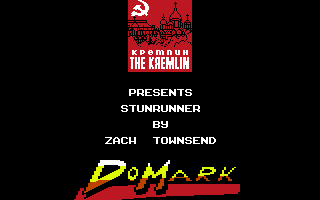 At the start of each level, a map of the course is shown. Look carefully at the map. The map shows the lay of the course, and special items such as speed boosters, and the types of terrain on the course. The Map screen also contains an information area which provides hints and tells you how far you are from the nearest Challenge level.
When you have studied the map, press Fire. This is the signal that you are ready to begin. In a few seconds, the race will begin.
The screen is divides into two parts. The main section is the game display. This is where the action takes place. The bottom of the screen contains the dashboard.