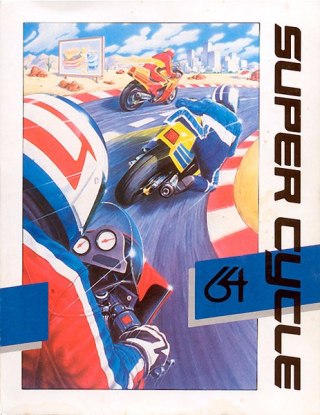 On Super Cycle. If it were any more realistic, you'd need insurance to ride it.
"Definitely one for the collection - you would be silly to overlook it" 95% overall Zzap.
"It is a game that makes you want to play it again and again" - Your Computer.
"Super Cycle is an excellent conversion, if you like race games you won't find better than this." - C&V.G.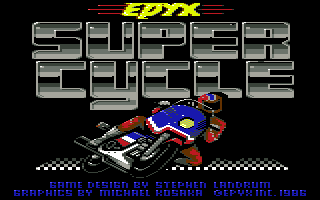 Any more realistic and you'd need insurance to ride it.
There are two guys in front. One coming up from behind. And another just off your elbow. The screams of the bikes are deafening. The wind is pulling your face off your head. Your adrenaline is pumping like Hoover Dam.

Your kick your bike to the right. He's bumped. He's flying. You push on. Take your eyes off the road for a millisecond, and you could end up a part of the road.

It's all a blur. No time to think. You've just gotta pump it. The next turn's the steep one. Bank, bank! The curve's wide open, but the screeching wheels of the bike in front are kicking gravel right in your...your...

Your hear a phone. A phone? Hey, wait a minute. This isn't a bike. It's a chair. It all comes back now. Yes. You're home. The pizza's here. The computer's on. Looks like it's going to be another quiet night after all.

Commodore 64 Disk £14.95
Commodore 64 Cassette £9.95