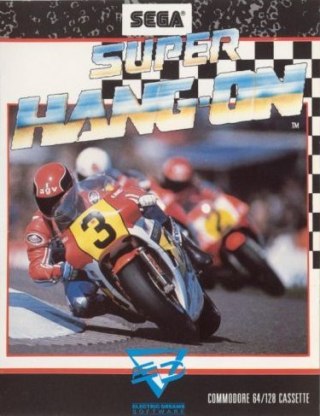 "The best racing game we've ever played - even better than Out Run!". Officially licensed from the greatest motorcycle racing game, the thrills are so real we considered making a helmet compulsory.

Four skill levels.
Four music tracks.

Push your turbo charged racing machine into 18 progressive stages racing across Asia, Africa, America and Europe.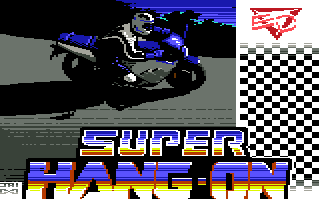 Right! Where's The Action...?

Hang on! Your objective is to race across four continents, each with a different skill class. Each continent contains a number of stages, and each stage must be completed before the timer counts down to zero. Any time made up on one stage is added to the time allowed on the next stage.

To qualify for the next class, you must complete all stages of a continent within the stage times. The higher the class, the more treacherous the track, and the more stages you must complete!

To help you, your bike is fitted with the latest hi-tech turbo, which you can kick into life once you reach your bike's regular top speed of 280km/h. That's when you'll need all your wits about you, as the action really hots up!!

The rest is up to you - check out the controls, then give it your best shot, if you got what it takes, that is...
Intro Screen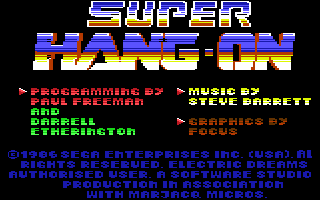 Select your class