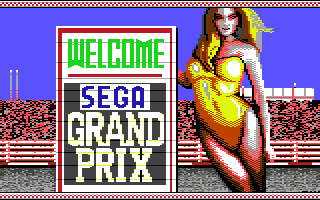 YOUR TIRES YEARN FOR TURBO BURN! THE WORLD'S MOST EXCITING GRAND PRIX!... CAN YOU BEAT THE REST... ...TO BE THE BEST?

Burn up the track on the straights and downshift into neckwrenching hairpin curves with Super Monaco GP. Set your wheels alight, screaming around the most demanding tracks on earth - the Formula that takes you to pole position. smash.

Zzap64! Overall Rating: 90%
A great race game with pace.