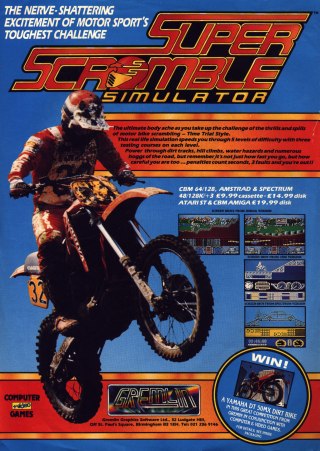 Take on the ultimate challenge of motorbike scrambling. This real life simulator takes you over 15 gruelling terrains, featuring 1:2 gradient hills, streams, water obstacles, logs, cars and lorries. Control your accelerating, braking and gear changing (avoid stalling it!) as you race against the clock. A real must for all budding motor-X enthusiasts.

The game has fifteen courses divided into five sets of three. There are three sets of mud courses and two sets of concrete courses. Within a set, the courses can be played in any order, but the whole set must be completed before progressing to the next set. Failure to complete the course within the time limit ends the game.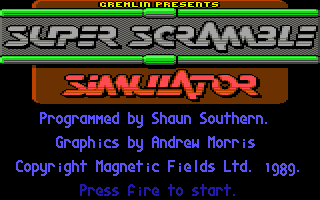 The nerve-shattering excitement of motor sport's toughest challenge. The ulitmate body ache as you take up the challenge pf the thrills and spills of motor bike scrambling - Time Trial Style.

This real life simulation speeds you through 5 levels of difficulty with three testing courses on each level.

Power through dirt tracks, hill climbs, water hazards and numerous hoggs of the road, but remember it's not just how fast you go, but how careful you are too...penalties count seconds, 3 faults and you're out!!

Super Scramble Simulator - Preview

Now , haven't we seen this before, in the shape of a novel little budget game called Kikstart? No we haven't, we've just seen something similar, but a lot more basic. Super Scramble Simulator allows you to ride a scrambler (a specially-adapted bike that allows you to ride on offroad terrain) over a variety of coarses. Obstacles you encounter include Volkswagon Beetles, logs, hills and walls that have to be driven around.

This all seems like jolly good fun until you realise just how precise you have to be. You have to be in the right gear for the right obstacles, be at the right speed, have the right wheel in the right position and to top it all you're up against a really tight time limit.

Zzap64! Overall Rating: 38%
An overpriced follow-up to the much superior Kik Start II.