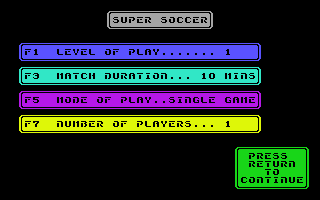 Welcome to Super Soccer, the most realistic football simulation yet!

We think Super Soccer is the best computer soccer simulation yet. Be Maradona on screen.

You can dribble past opponents, slide tackle, make crosses, even attempt diving headers. But what makes this game outstanding in its own field is the control you can exercise over the ball.

No other game allows you to control the strength of your sharp shooting and ball passing like Super Soccer does. So get on the ball in the game of the season.