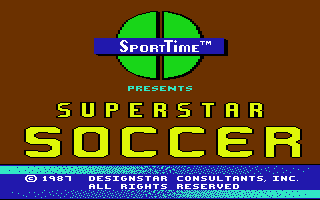 Welcome to the SportTime Soccer League, better known as the SSL. Headers, bicycle kicks, passes, dribbling, injuries - Superstar Soccer contains all the action, realism, and excitement of outdoor soccer. Play center forward or goal-keeper.

Play against another player or against a computer-controlled team, or have the computer play against itself.

You also can have two players play against the computer, where one player con-trols a teamís center and the other player controls the same teamís goalie. Compete in regular league play or practice games.