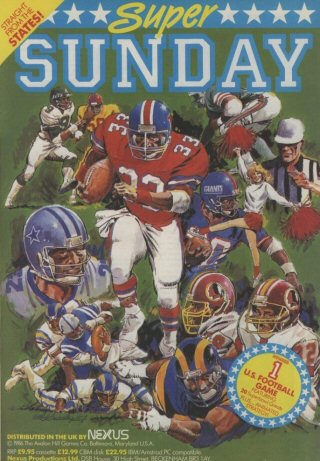 YOU'RE THE COACH, THE BALL OS IN THEIR 42 YARD LINE AND THERE'S ENOUGH TIME FOR ONE MORE PLAY. THIS IS FOR THE CHAMPIONSHIP. DO YOU GO FOR THE TIE WITH A 52 YARD FIELD GOAL OR GO FOR BROKE WITH A "HAIL MARY" PASS? Super Bowl Sunday LEAVES THE DECISION TO YOU.

Zzap64! Overall Rating: 92%
A superlative product - the best football simulation on the market.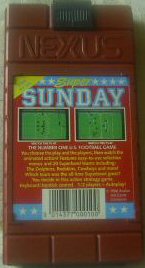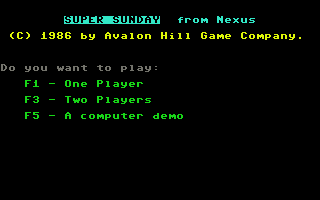 Super Bowl Sunday is three exciting games and twenty SUPER BOWL TEAMS, all on one disk.

In the solitaire game, match your managing skills and wits against a sophisticated computer opponent. The computer has been programmed to call the plays as the real team did that season. Good luck...because in addiction to efficiently using its players, and mixing the plays up, your opponent is extremely intelligent. Just like a real coach, the computer keeps track of the plays you have been successful with and adjusts its defense to minimize your offense.

And when there is a penalty, the computer's intelligence accepts or declines the penalties based upon the game situation. If the computer is ahead toward the end of the game, it will not take risks in its play selection. Having a smart computer opponent is a new game feature only large main frame computers could emulate until Super Bowl Sunday.

In the two-player game you and your opponent will be able to match your coaching skills against each other.

Hand the ball off to John Riggins on 3rd and short, or have Joe Namath pass deep to Don Maynard on 3rd and long. The success of the play you call will depend on the relative strengths and skills of the actual players, as well as the game situation. Replay the great games of the past or mix and match past champions to see which was the greatest of all time.

Find out for yourself which team was the best of all time. Call the plays, plan the strategy and manuever the players.