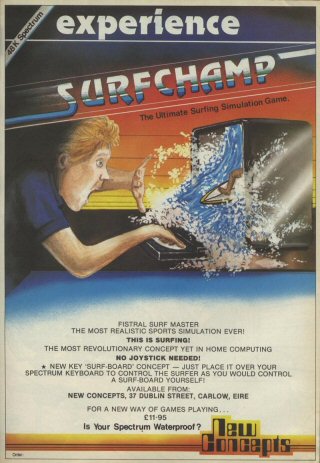 This simulation enhances the various difficulties incorporated in small wave surfing and the characteristics of the famous Fistral beach. Soon new beaches will become available to surfers who wish to follow the surfing trail all the way to the massive Pacific rollers in Hawaii.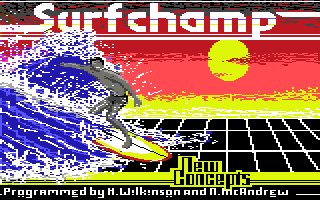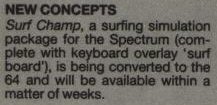 Zzap Newsflash Oct.1986

This game now makes available to everyone the sheer exhilaration of this minority sport. This full feature game includes a range of new and unique features not seen before in computer simulations.

The surfer's physical characteristics, his board selection, the weather, the tide conditions and other factors all make the game different everytime the surfers take their boards down to the beach.

The surfers build up their skill and knowledge and it is this which will ultimately determine who will become the Surfchamp.

A unique Hall of Fame and a multitude of other small but meaningful nuances make this game really stand out from all other sports simulations. There is a fully illustrated information mode for beginners on a separate loading.

Zzap64! Overall Rating: 30%
An original but uninspiring simulation.