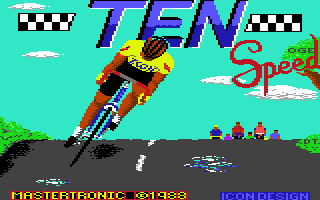 Compete in the TRANS-USA Road Race across thousands of miles of American roads in this superbly animated game that brings all the thrills and spills of road racing to your home computer.

As one of the 84 starters you have to battle through the field of amateur and pro racers avoiding hazards, potholes, cars and especially other riders.

By collecting the roadside refreshments and using gears correctly you will be able to keep your energy levels high enough to climb into top gear and accept the winners medal.

Extra features include smooth multi-layer scrolling, superb animated graphics and random time trials to keep you literally "on your toes".