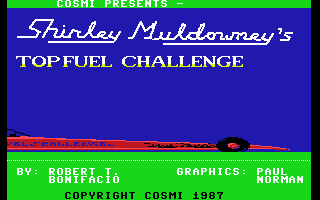 FIERY ACTION....from this fast moving authentic drag racing simulation.

Jump to the smell of burning rubber as you "burn-in" your tyres. Recoil from the heat of your turbos as you gun your engine. Feel the snap of the G Force as you release your clutch.

This is the world of drag racing as recreated by Shirley Muldowney, 3 times world champion in Professional Top Fuel Dragsters.

Tensely wait for the Christmas tree lights, then pop your throttle and power your way down the 440 yards in head-to-head challenge with Shirley in one of her best championship races.

But be careful. Don't red light, smoke your tyres or blow your engine... there's a long season ahead.

Zzap64! Overall Rating: 13%
A slow, uninteresting and appalingly presented racing simulation.