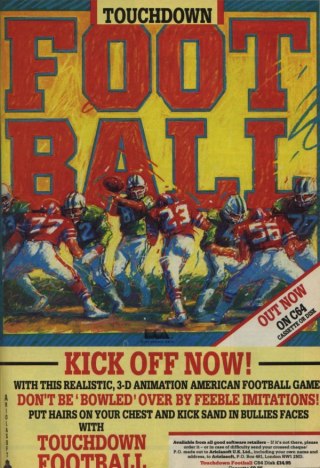 Tackle tough gridiron action in this vivid, exciting computer sports game. Fully animated offense and defense pass, run, kick, tackle, intercept and blitz in the most elaborate sports play detail ever created in an actin game. The unique, full perspective sideline view of the playing field, the brilliant three dimensional graphics, the announcer, the referee's whistle and the cheering of the crowd---all the realism of conputer-driven competition at its best. Whether mastering your opponents or the computer, the play is fast paced and furious.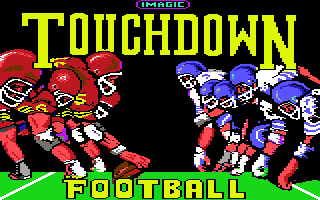 Touchdown Football is a realistic, hardnosed football game that lets you make the calls. On offense you are the quarterback and the intended receiver, while on defense you're the roving back. Whether you play a friend or just the computer.

It's fourth and long with less than a minute remaining in the game. The winner gets a wild card berth in the playoffs. You're down by a field goal. Your quarterback makes a perfect pass, your receiver is wide open, and then you see the referee's arms fly up signaling the touchdown. You're going to the playoffs.