Now is your chance to participate in 1987's most exciting record-breaking event - the first ever successful crossing of the Atlantic Ocean by hot-air balloon!

Richard Branson and Per Lindstrand (the balloon's designer) man the 'Virgin Atlantic Flyer' and they have been challenged to a race by anothert balloonist!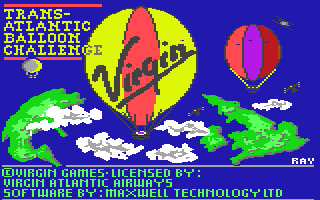 This split-screen arcade game is full of action and is designed for either one or two player. You play a powerful. but mischievious Eagle that can help (or hinder!) Richard. You can help control Richard's (or his rival's) balloon attitude and course and help ward off the dastardly hindrances that have been arranged for your downfall (literally!).

Your opponent also has an Eagle as a mascot and between the pair of you it is out and out war most of the time!

So take flight and good luck!

Zzap64! Overall Rating: 23%
A poor piece of software which offers little to an intelligent games player.