| Download Game | Sid-Tune | Review | Manual | Cover Front 1 | Cover Back 2 |
| Cover Front 2 | Cover Front 3 | Cover Back | Review Zzap | Review C+VG | American Football |


Copyright/Publisher: Cinemaware, Lead programmer: Daniel Lucas, Programmed by: Craig Seastrom,
Graphics by: Ken Hard, Sound Effects By: Jim Simmons, Game Tester: James Maxwell, Producer: Patrick
Cook, Executive Producer: Phyllis & Bob Jacob, Release Year:1989, Genre: Am.Football, No Of Players: 1-28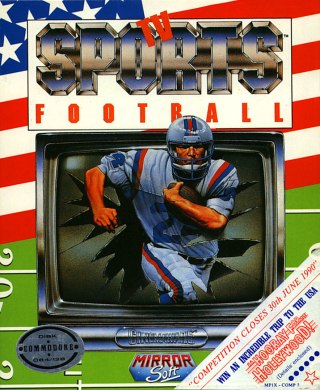 ZZAP64! Overall Rating: 92%
The ultimate American Football sim has arrived on the C64. A must for fans!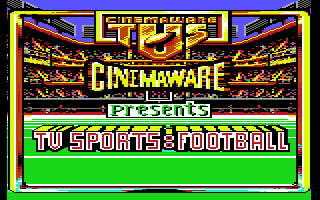 Strap on your helmet and get ready for a pro football simulation that looks exactly like a Sunday network broadcast. TV SPORTS: Football features amazing graphics and animations; real arcade action on offense and defense; individual and team statistics; and a 28 team, 16 game schedule with post season playoffs!

"SO REAL IT...SWEATS!"

• Create a league with up to 28 human controlled franchises.
• All teams have different offensive and defensive tendencies.
• Play it as an arcade game or coach from the sidelines.
• Play alone, against a friend or with a friend against the computer.
• Includes "pushbuton statistics" to view the top performers in the league.