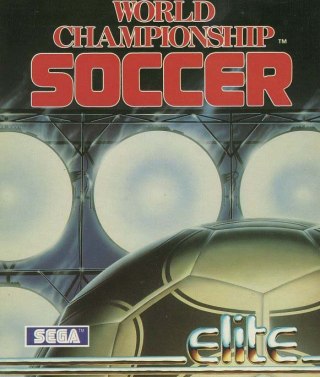 Sega's highly successful and popular soccer game, already played by thousands machines and Genesis consoles, has now been brought to home computer by Elite Systems.

Choose your country from twenty four international teams. To win won't be easy as you're matched against some of the most skilled teams from around the world and everyone of them is out to win the final match and claim the cup.

Featuring a two player option, penalty shoot-outs, practice game and a whole lot more, World Championship Soccer kicks other football games into touch. Zzap64! Overall Rating: 42%
Foul!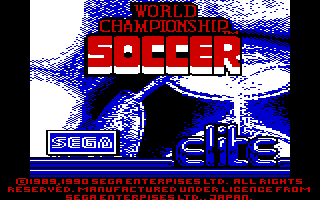 Here it is! The ultimate soccer game. One grand stadium, twenty-four international teams and enough fierce competition to make your blood boil.

That is, if you've got any interest in beating the odds and grabbing the World Championship as you very own prize. To win won't be easy since qualifying is a must before you're allowed to take on the best of the bunch for spirited soccer play.

But to prepare yourself, try a few practice games to master your weakness and improve your strength. Then you'll be ready to qualify against the six separate groups of teams, all vying for a spot in the Final Tournament.

A group of players are registered on each team and before a match begins, the starting eleven are selected. To help you select the team of your choice, each team's offensive and defensive strengths are represented in numerical value.

Naturally, your offensive and defensive strengths will help you decide. If you're quick to dribble, but slow to tackle, you'll probably want a team that's stronger on defence. It's up to you, so go for the gusto abd earn the right to carry the Cup!