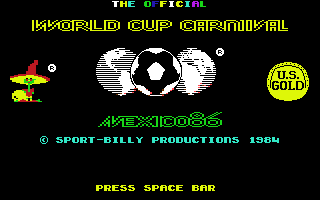 CELEBRATE IN STYLE WITH
THE OFFICIAL WORLD CUP CARNIVAL
Enjoy the excitement of the world's premier sporting occasion as the whole of the globe focuses attention on the ultimate in football achievement - World Cup victory.
Follow the action as it happens with your own computer progress chart, play out the drama of real match encounters, nation versus nation in your own computer football game and capture the spirit of this momentous competition and its Latin American setting famous for its carnivals, the passion of its people and the favour and enthusiasm they demonstrate for their sport.
World Cup Carnival, The ONLY official football supporters' computer game. The ONLY way for a computer enthusiast to follow the World Cup.
ZZAP! Rating; Overall 11%
Hyped drivel which should be thrown into a deep dark hole and left to die.