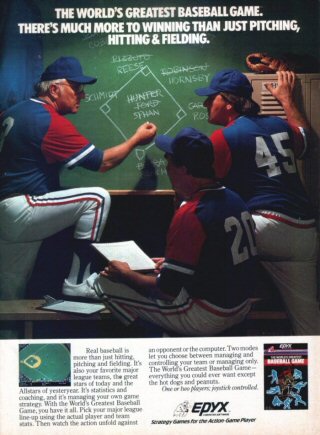 Take charge of your favorite baseball team with The World's Greatest Baseball Game. Create your own teams, trade players, and design the ultimate All-Star team. Use both strategy and skill as you manage and play the game of baseball with just one program.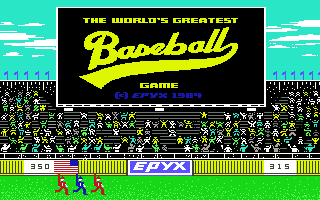 Real baseball is more than just hitting, pitching and fielding. It's picking a starting lineup, planning your game strategy and making substitutions as the game progresses. It's having batting averages, fielding percentages, ERAs and other statistics play a part in your decision and the game's outcome. All this is now available in a computer game for the first time in THE WORLD'S GREATEST BASEBALL GAME.

You select from twenty-five classic teams including recent World Series and All Star teams or great teams of yesteryear. Then pick your lineups and manage your own game strategy. THE WORLD'S GREATEST BASEBALL GAME uses the actual player's statistics and your own game playing ability to determine the outcome of each game. Play against an opponent or match wits with the computer. You can choose between managing and controlling your players, or managing only.

THE WORLD'S GREATEST BASEBALL GAME is sure to be everything you ever wanted in a baseball game...Hot dogs and peanuts are not included.