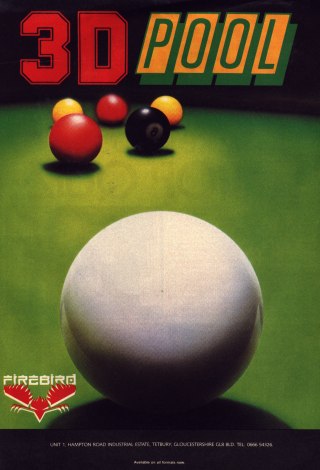 Zzap64! Overall Rating: 74%
A novel twist on the traditional pool game with good graphics to match.

Stunningly realistic true to life 3D pool simulation.

The first 3-dimensional computer Pool game that lets you view the table from almost ANY ANGLE YOU CHOOSE! Rotate and tilt the Pool table to set up your shot, then crack the cue ball into the pack. You've never seen anything like it!

* Stunningly realistic true to life 3D pool simulation.

* Awe-inspiring real-time rotating table.

* Super intelligent computer-controlled opponents.

* Delicate control of spin, swerve and power.

* All the fun of creating your own trick shots.

* Pit your wits against Maltese Joe - European Pool Champ!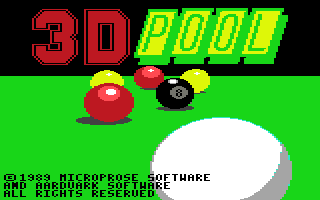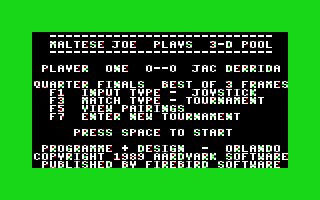 Think you're hot stuff huh?
Well here's your chance to prove it.
European champion 'Maltese Joe' Barbara is waiting to rack'em up and blow you out. Unlike any other pool simulation, 3D POOL incorporates a unique "move around the table" feature - allowing shots to be played from any position, just like in a real game.
3D POOL will take all your skill to master and if you do get that lucky break, how about entering the nationwide 'Maltese Joe' high score competition with the chance to play a real frame with the champ. Full details in every box.
Cue up for a shoot at big Joe.