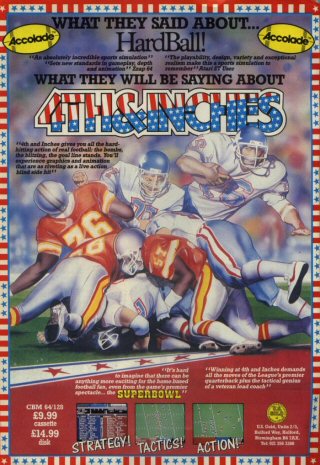 4th and Inches by Accolade is the hard-hitting action football game. The bombs, the blitzing, the goal line stands... you call the play and execute it so the glory of winning and the agony of defeat are yours to claim.

Also included is the hard to find 4th & Inches Team Construction Disk kit. With it create any team, any type of player, assign all the stats, sizes and characteristics of each of your 4th & Inches players. Save each team that you've created to disk; the possibilities are endless.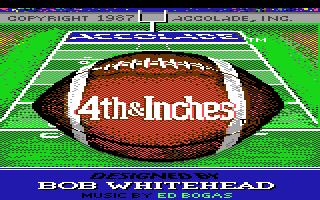 I've seen some great move on the football field but nothing compares to the moves you'll find on 4th & Inches computer football. This is real pro football action with 11 animated players per side. It's great! The ball's snapped and you have 22 guys running around the screen buttin' heads!

But the best part about 4th & Inches? The control. I pick the starters. I control the key players on offense and defense . Heck, this is a head coach's dream come true! And the playbook? Fantastic. You get a pro style playbook with 20 plays and 11 different formations.

Somebody at Accolade really knew their X's and O's when they drafted 4th & Inches. Great game plan, guys!

Zzap64! Overall Rating: 90%
The most accomplished, entertaining and realistic American Football simulation to date.