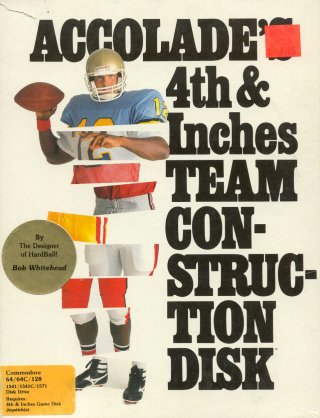 The 4th & Inches Team Construction Disk. Think of it as the "front office" for your 4th & Inches game.

The Main Command screen presents your options. Selecting "Modify Visitors" allows you to create the visiting team. You can save that team to disk then call it up from the "Team Disk Directory".

Here's the visiting line-up. Create everything from the player's name, height and weight to the team colors. Select each player's playing characteristics. Will your cornerbacks be speedy, steady or just plain tough?

Take the field with your custom-built teams. Each player performs with the playing characteristics you're given them. Watch for the bomb from the "Accolads" The quarterback was "built" with a great arm!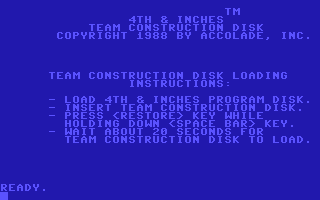 Create any team and any type of player for your 4th & Inches game!

Imagine the ultimate football player. A bone-crushing giant with world-class speed. He runs past, around and over people. He's got a cannon for an arm.

Now, imagine an entire team of these superhumans.

Impossible? Not when you boot up your 4th & Inches Team Construction Disk. Now you have the ability to create any kind of player, for any kind of team, all for play with your 4th & Inches game.

The possibilities are endless.

Assign all the stats, sizes, and playing characteristics of each of your 4th & Inches players.

Create a team of real-life pros and pit them against your friends.

Name your teams...even choose the jersey color.

Save each team that you've created to disk.