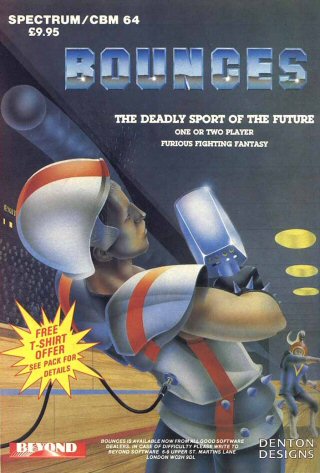 Zzap64! Overall Rating: 86%
Seems overpriced for what it is ...but it's still a pretty good game.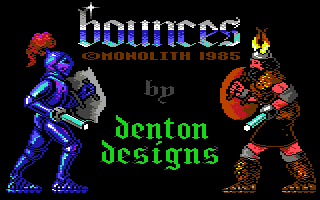 Welcome to the future! Here there's no war, politics or unemployment. No, today everyone is a proud employee of one of the Eco-zone corporations. We're all genetically perfect, work hard and enjoy the fun, fun, fun of the BOUNCES arena. Our corporations sponsor warrior clones. They give them roller boots (with Frictoe caps), personalised body armour and helmets.

Stick a Bounces ball snatcher in their right hand and put them into the Bounces arena. The ojbect is to pitch the Bounces ball (Low-grav slugdomium sphere) through the goal slots. But the crowd goes wild when the players go for the in-fighting with its bloody knockdowns and slug-outs.

NOW YOU TOO CAN PLAY BOUNCES IN THE COMFORT OF YOUR OWN LEISURE DOME!