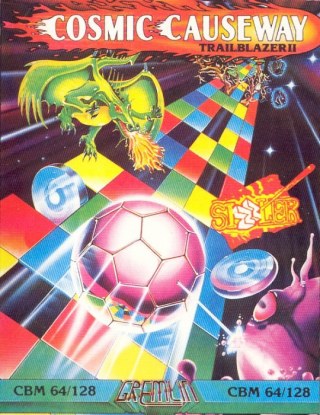 When we brought you TRAILBLAZER, we pushed your reflexes to the limit.

That was your training... Now here is the REAL challenge. Retaining all the breathtaking speed and exhilaration of Trailblazer, COSMIC CAUSEWAY packs in more exciting new features than you could ever wish for.

Thunder along 24 perilous new courses, negotiating the obstacles and aliens the way, collecting credits to improve your chances.

Zzap64! Overall Rating: 93%
A technically superb game that's both visually impressive and fun to play.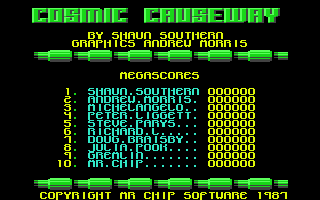 The ratings are as following, lamest first:
Abysmal
Hilarious
Pitiful
Skoda Owner
Sheep
Apologetic
Stinker
Funnnnny (sic!)
Lousy
Indifferent
Grape Crusher
Very Average
Pleasing
Fair Play To You
Not Bad At All
Competent
Skilled
Blazing
Terrifil
Wonderful
Thats Cool
Hot Stuff
Tasty
Superb
Microblazer
Fantastic
Amazing
Out Of This World
Inspired
Excellent
Superblazer
Megablazer