You get the players-20 pro football rosters featuring your real-life gridiron heroes- yesterday's legends..and other stars. You control the teams-both offense & defense and all the action, based on the actual season stats and performances from the real players and teams. You win or lose based on your coaching strategies.

This is no boring arcade-style game with imaginary players, requiring only a quick wrist and good handeye coordination. And board games aren't even in the same league.

MicroLeague is a thinking man's football-game for the football fan and stats buff. Before the game, you select the home and visiting teams. Make roster changes. Fin tune your game plan. Select your starting teams.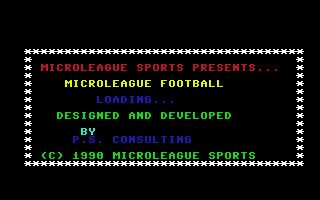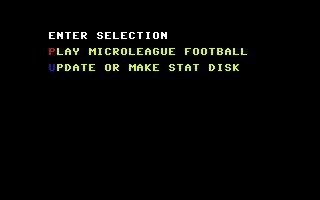 During the game, you call the plays & pick the pass patterns-dive off-tackle, sweep, run a draw play or end-around, pass in the flat or throw the bomb. You pick the defense-guard against the run, rush the passer, blitz, call a zone, man-to-man or goal-line.

But be careful what you call-the quarterback may read your coverage and beat you deep! Watch the weather, injuries, penalties, which could change your game plan.

Special features: Pop-Up Screens. Get quick, easy mid-game access to complete offensive & defensive stats. Substitution screens let you know who's available on your bench. Built-in Playbook. Quick-Play Option. Go head-to-head with the computer.