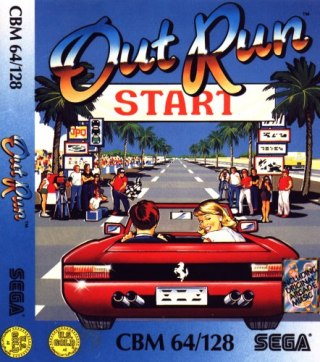 Zzap64! Overall Rating: 68%
A brave attempt, but Out Run simply lacks the original's playability and flair.
Like no other game before it, you try a race against time to achieve your objective of reaching any one of five goal lines and become a winner. The course you will take is up to you.
Start your engine, grip the controls and participate in the fastest race ever. Be prepared to dip, curve and increase your speed as you drive this arduous course. Familiarise yourself with the controls and GET READY!
Use your skill and judgement on this hand to eye masterpiece to manoeuvre your way past the many obstacles placed in your path. Avoid collision and try to stay on the road.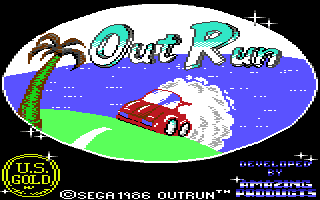 You're cool, the engine's hot, the girl's gorgeous, a tank full of gas and an open road...the rest is up to you..!

The ultimate experience in motor sports simulation, the absolute challenge to nerves and reflexes. Feel the wind in your hair and the pull of the G-force as you power your way along the highways and byeways, a girl by your side and open country before you.

Experience the exhilaration and excitement of driving a high performance sports car in this teasing time trial where your co-ordination and nerve will be tested to unbelievable limits. Out Run the coin-op starred as an arcade sensation. Out Run the computer simulation mirrors this exciting all action spectacle.